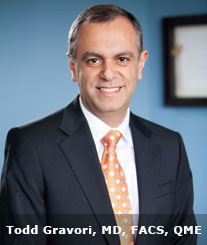 "Cancellara is lucky that his injuries are in the lower back rather than the neck area, where fractures may have more severe consequences," said Dr. Gravori.
Los Angeles, CA (PRWEB) July 30, 2015
An article in Cycling Weekly, "Fabian Cancellara out of Tour de France after Fracturing Spine in Crash," talked about the major crash during Stage 3 of the Tour de France which resulted in former time trial world champion Fabian Cancellara fracturing two vertebrae and withdrawing from the race. Earlier in the year, Cancellara fractured the same vertebrae in a crash during the E3 Harelbeke race. Dr. Todd Gravori, a prominent spine surgeon and director of ProMedSPINE in Los Angeles, comments on spinal trauma and possible treatment options.
"Sports injuries can often result in vertebral fractures, especially when high-impact collisions are involved," explained Dr. Gravori. "These fractures can range in severity, but it is not a good idea to place extra strain on even a small fracture. It must have been disappointing, but it is for the best that Cancellara has decided not to compete in the next stage."
Stage 4 of the Tour de France involves riding over cobblestones, which could jar and make his vertebral fractures worse. The fractures occurred in the L3 and L4 vertebrae, which are in the lower back, not the neck area. It is yet to be seen if Cancellara will require surgery; his previous injuries from E3 did not. Often, minor fractures can heal on their own with conservative treatments; if conservative treatments fail to work adequately, surgery may be considered.
"Severe spinal injuries may require surgical stabilization, but often minor fractures will heal on their own with an external brace," said Dr. Gravori. "Although spine surgery has come a long way and is safer than ever, conservative methods should always be used where possible. Cancellara is lucky that his injuries are in the lower back rather than the neck area, where fractures may have more severe consequences."
There are two types of spine surgery that can be used to stabilize a fractured spine if conservative treatments prove inadequate. Vertebroplasty involves using medical grade bone cement to fill and stabilize the fracture, while kyphoplasty is the same procedure but with the addition of a thin balloon instrument in order to create a space for the cement to be injected. Both surgeries are minimally invasive outpatient procedures with a high rate of full recovery.
"Minimally invasive spine surgery has become the norm over traditional open-back surgery," explained Dr. Gravori. "Minimally invasive procedures involve less blood loss as well as less of a risk of infection. In addition, post-operational pain and recovery time is significantly reduced. These advances make spine surgery a much safer and more effective solution than ever before."
Based in Los Angeles, Todd Gravori, MD, FACS, QME is a board-certified spinal and neurosurgeon specializing in the treatment of back, neck, and spinal conditions via minimally invasive procedures. From each of his five boutique locations, Dr. Gravori offers comprehensive treatment, including diagnosis, education, treatment, surgery, and aftercare. Dr. Gravori offers treatment for herniated discs, spinal instability, spinal deformity, spine tumors, brain tumors, meningioma, hematomas, cavernous malformations, and carpel tunnel. Unlike large hospitals, Dr. Gravori's unique outpatient structure offers personalized care in a safe and controlled environment. To learn more about Dr. Gravori and his high-end outpatient facilities, visit the new website at http://www.ProMedSpine.com.