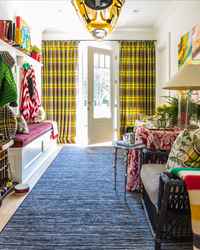 San Francisco, CA (PRWEB) July 27, 2015
Esteemed Designer Scot Meacham Wood of Scot Meacham Wood Design is delighted to present Camp Citron, a vibrant, athletic-inspired mud room at Traditional Home's 2015 Hampton Designer Showhouse. Known for his fresh take on traditional design, Scot has reimagined a classic Adirondack vacation style through a Pop Art-inspired lens.
The mud room's bold color palette reflects the acid yellow and bright red of its tartan accessories, selected from the designer's own textile and home decor collection, Scot Meacham Wood Home, launching this fall. Sporting goods such as an antique croquet set and bespoke kayaks imbue the space with a lively, adventurous feel.
Original contemporary artwork from Andrea Arroyo, Jhina Alvarado, and Patter Hellstrom represented by San Francisco-based ArtHaus Gallery adorns the room's walls. Uniting his home of San Francisco with the Showhouse's New York location, Scot selected pieces from artists hailing from both coastal cities and presents their works side by side.
With his tailored details and fresh palette, Scot creates an impactful space that is both functional and chic.
About the Hampton Designer Showhouse
The 2015 Hampton Designer Showhouse is presented by Traditional Home and located at 233 Old Sag Harbor Road in Bridgehampton. The house will be open daily from Sunday, July 26, through Monday, September 7, with visiting hours from 11:00 AM to 5:00PM, Monday through Sunday. Tickets are $35 and the proceeds go towards Southampton Hospital. For more information on the Hamptons Showhouse, please visit http://hamptondesignershowhouse.com/.
About Scot Meacham Wood
Native to the South but rooted in Scotland, Scot Meacham Wood is recognized for both his timeless design and captivating persona. Pulling from his cultural background and 13 years of experience working with Ralph Lauren, Scot has created an influential style that he describes as a combination of gracious 'expected' with some whimsical 'surprise.' Established in San Francisco, the respected designer maintains a strong presence in the design industry as well as the online community. Thanks to his European style and Southern hospitality, Scot Meacham Wood can certainly light up a room.