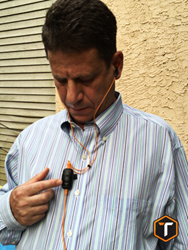 Typically this level of scrutiny is associated with industrial/commercial products rather than those available to everyday consumers.
King of Prussia, PA (PRWEB) July 30, 2015
The ToughTested line of noise control audio products have earned the endorsement of a Philadelphia-area audiologist, who applauded the company's commitment to hearing protection by publishing a blog on their website.
"There are a lot of earbuds on the market that 'claim' noise isolation and noise control, but I was happy to see that the ToughTested line actually carries a noise reduction (NR) rating of up to 26 dB which means they took the matter seriously enough to go through the testing," said audiologist Danny Libby. "Typically this level of scrutiny is associated with industrial/commercial products rather than those available to everyday consumers."
That's a significant praise considering the staggering statistics on hearing loss from environmental noise. The National Institute on Deafness and Other Communication Disorders (NIDCD) estimates that 15 percent of Americans between the ages of 20 and 69 experience hearing loss caused by exposure to loud noise at home, work, or play.
"I have performed thousands of audiological evaluations. Many have been conducted for noise-exposed industry workers as well as the everyday individual," said Libby. "I have personally found environmental noise exposure to be a leading cause of hearing loss for my patients. It is present every day in both recreational and work environments, especially in industries like construction."
Libby recommends the consistent use of hearing protection with a noise-reduction feature like that found in ToughTested's earbuds for average consumers, not just those exposed to consistently high levels of noise in their work or recreational activities.
To take the cause a step further, ToughTested has also equipped the earbuds with several other important features that Libby says also assist in hearing protection.
"While protecting your ears from the environment the headphones also improve the clarity of your conversations and music so you can turn the volume down to a safe and enjoyable level because you are no longer competing with the background noise," said Libby. "Two of the models, Jobsite and Marine, offer a technology called EQ-Voice that changes the frequency response for music or calls at the flip of a switch. This feature additionally gives a 10 db volume boost in the 'voice' mode for even better call clarity."
The new ToughTested audio line comes in four different models including Ranger (MSRP, $24.99), Driver (MSRP, $39.99), Jobsite (MSRP, $69.99) and Marine (MSRP, $79.99). They can be purchased online at tough-tested.com or at various retailers throughout the country including Love's Travel Stops & Country Stores, Lowe's Home Improvement, O'Reilly Auto Parts, Town Pump, CEFCO and other fine retailers.
About ToughTested
ToughTested is a brand of consumer electronics launched by Mizco Inc. in 2012 to address the need for heavy-duty mobile accessories amongst those who work in rugged environments. Designed for wear and tear, the ToughTested line strives to provide extra protection and security for mobile accessories being used everyday in industries like construction and trucking and in rugged leisure activities like hunting, fishing, camping, boating and motorsports. Visit the ToughTested earbuds website http://www.tough-tested.com for more information or to shop. Follow ToughTested on Facebook, Twitter, Instagram and YouTube for the brand's latest news as well as to participate in fun contests and giveaways.
###