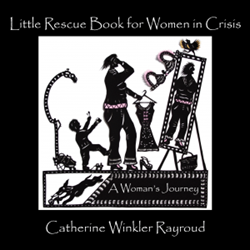 Her mission became illustrating those emotions bottled up inside, as well as the hopes and fears of women around her.
HOUSTON/ RICHMOND, Texas (PRWEB) July 28, 2015
Life as a woman is not always easy, given expectations of society, spouses and women themselves. Artist Catherine Winkler Rayroud dealt with some personal doubts and demons by expressing herself through her art, and she shares those images in a new book released by Dog Ear Publishing. The collection of 70 whimsical paper cuttings depicts her journey as a woman and what physical and emotional issues follow that reality.
"Little Rescue Book for Women in Crisis" pairs thoughtful words with beautiful examples of Scherenschnitt, the art of creating intricate paper cutouts. It can take Winkler Rayroud up to six months to make a piece, which involves using a tiny pair of curved nail scissors to create the designs from a single sheet of paper. Winkler Rayroud turned to art when she became a teenager, expressing her feelings of turmoil and response to physical ailments.
Social pressure and the traditional household responsibilities of a married woman made her feel trapped, but a move to the United States brought new role models into her life. She was inspired to create the book when she experienced early signs of menopause and faced a personal crisis. Her mission became illustrating those emotions bottled up inside, as well as the hopes and fears of women around her.
The text shares Winkler Rayroud's own experiences and calls for women to recognize they are not alone, offering hope, while the incredibly detailed paper cutouts add a touch of humor to her sincere support for women in all walks of life. As she writes, "When a woman is down on her knees, let's all stand up and make sure she can stand straight again. Every woman in the world deserves respect and a chance to be who she wants to be!"
Author and award-winning artist Catherine Winkler Rayroud has practiced Scherenschnitt, the art of paper cutting, for 35 years. She learned the craft while growing up in Switzerland as the daughter of a Swiss father and English mother. Winkler Rayroud split her time between paper cutting and ceramics until a horse-riding accident in 2003. Her work has been exhibited in galleries and museums in Europe, the United States and Korea and been published in books, magazines and newspapers. She moved to Texas in 2000 with her husband, Dan.
----------
For information or to order the book, please visit http://www.catherinewinklerbooks.com
For information about the artist, please visit http://www.catherinewinkler.com
Little Rescue Book for Women in Crisis
Catherine Winkler Rayroud
Dog Ear Publishing
ISBN: 978-1-4575-3718-9 76 pages Paperback $19.95 US
ISBN: 978-145753-947-3 76 pages Hardcover $27.95 US
ISBN: 978-145754-030-1 ebook $9.99 US
Available at Ingram, Amazon.com, Barnes & Noble and fine bookstores everywhere.
About Dog Ear Publishing, LLC
Dog Ear Publishing offers completely customized self-publishing services for independent authors. We provide cost-effective, fast, and highly profitable services to publish and distribute independently published books. Our book publishing and distribution services reach worldwide. Dog Ear authors retain all rights and complete creative control throughout the entire self-publishing process. Dog Ear Publishing reviews services and other book marketing services are available to connect great content with interested readers. Self-publishing services are available globally at http://www.dogearpublishing.net and from our offices in Indianapolis.
Dog Ear Publishing – self-publishing that actually makes sense.