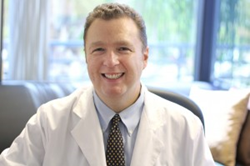 "The results of this clinical trial are extremely encouraging and exciting for patients suffering from partial or complete blindness from this condition," said Dr. Tracy
Carlsbad, CA (PRWEB) August 04, 2015
The results of a three year clinical trial for the Argus II, a retinal implant designed to treat Retinitis pigmentosa, a rare eye disease that progressively causes blindness, were published on June 23, 2015 in Ophthalmology, the journal of the American Academy of Ophthalmology. According to the results of the trial, the implant, more commonly known as the "bionic eye," is safe and effective for long-term treatment for the vision loss associated with the condition. The trial included 30 patients ranging in age from 28 to 77 across the United States and Europe.
"The results of this clinical trial are extremely encouraging and exciting for patients suffering from partial or complete blindness from this condition," said Dr. Michael Tracy, an ophthalmologist and LASIK surgeon in Carlsbad.
The revolutionary device offers hope for the 1 in 4,000 Americans suffering from the rare condition. Retinitis pigmentosa is an incurable degenerative condition that eventually leads to blindness. The Argus II helps to project light patterns that the brain can learn to interpret as an image. A pair of glasses equipped with a video camera projects visual information to a portable computerized video processing unit. The computer then converts the images to electronic signals that are wirelessly transmitted to an electronic device implanted on the retina.
The Food and Drug Administration (FDA) approved the device in the Humanitarian Use Device (HUD) category in 2013. All of the participants in the study had little or no light perception in both eyes. Visual function tests were conducted using a computer screen and simulated real-world conditions. The trial participants were also evaluated for improvement in overall quality of life. After a year, at least two-thirds of the trial subjects had not experienced serious complications related to implantation surgery or device-related complications. After three years, there were no device failures.
"The implications of this study are incredibly encouraging not only for patients suffering from Retinitis pigmentosa, but for the development and use of technology to help us treat patients for a range of ophthalmology and eye diseases in the future," added Dr. Tracy.
Dr. Michael Tracy is a board-certified ophthalmologist in Carlsbad, CA. He completed his residency training in ophthalmology at the Scheie Eye Institute at the University of Pennsylvania and his fellowship in Corneal and Refractive Surgery at the Bascom Palmer Eye Institute. Dr. Tracy specializes in LASIK and PRK surgery at his private practice at Carlsbad Eye Care.
To contact Carlsbad Eye Care, please visit http://carlsbad-eye-care.com or call (760) 603-9910.