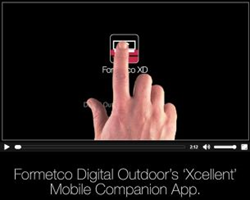 The XD app is a robust tool for LED billboard owners and many positions within outdoor advertising agencies. - Jock Gibb, Formetco
Atlanta, GA (PRWEB) July 28, 2015
Formetco announced today the official launch for the new XD mobile application. The app is a tool created to help LED billboard owners and many roles within outdoor advertising agencies. The new (free) app, the first of its kind in the outdoor advertising industry, is designed to serve the needs of users throughout the digital advertising realm. The app is cross mobile platform compatible, and works on Android, iPhone and iPad devices.
Why the App was developed "
The XD App, through the very nature of being smart phone accessible, makes it easier for outdoor advertising professionals to do their jobs. In particular, it enables people in the field to access and manage information in a manner that was previously unavailable. The app is a very useful tool for billboard owners, as well as outdoor advertising agency marketing, sales engineers and operations personnel.
Benefits and features of the XD app
The XD App was built with features that provide user benefits including:
1. The app provides 24/7 access to important information and billboard management controls.
2. The app provides remote monitoring of a Formetco billboard via a digital webcam.
3. Users can connect 24/7/365 to the Formetco customer support and service tech groups.
4. Users may schedule site evaluation support, software training and digital artwork consulting.
5. Registered users can access a library of informational and instructional videos including how-to maintenance videos.
6. Registered users may utilize pre-designed templates to show prospects the advantage of real time dynamic data displays.
7. Registered users can create new installation comps on the fly. Take a site photo; then insert stock images of poles and billboards from an online library. Images can easily be moved and scaled to create a realistic design comp.
The XD app provides tools for agency sales people to educate prospects. Agency marketing people can explore the latest best practices in outdoor advertising creative design, Support staff now has greater control of billboards. Maintenance teams have access from anywhere to the instructional information. Customers can easily learn how to get optimal performance from their investment.
Who can use it & how to get it
The XD app is a free application, and available for anyone to download from iTunes Store or Google Play. Formetco offers the ability to register as a member user which opens the door to unlimited access of proprietary tools and information.
Physical requirements to install the app
The app's basic requirements are iOS 7.0 or later for Apple devices, and OS 4.1 and later for Android devices. With active developer support this app is continually being improved thus assuring that it remains a reliable and valuable tool for planning and management of outdoor advertising assets.