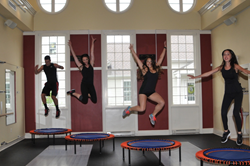 "If my endocrinologist would have suggested rebounding from the get-go, I suspect my thyroid levels would have stabilized earlier on in my diagnosis. Trust me...it's been a long 4 1/2 years."
Bernardsville, NJ (PRWEB) July 28, 2015
opaJUMP! and O-PA! Performance Academy in Bernardsville, NJ is the first fitness studio to measure and produce health outcomes associated with its training methods. This company is also the first to promise improved functional health.
Focusing on a small group pre-post study, conducted in early 2015, training yielded an average 80% improvement in functional health status for participants completing a six-week program at O-PA!. Functional outcomes included range-of-motion and flexibility that translate into improvement in basic activities we take for granted like tying shoes, getting dressed, and walking the dog. However, another unexpected outcome also occurred with a participant, named Lynn, in the opaJUMP! training which revealed her thyroid was unexpectedly regulated after just seven weeks of classes.
As a common practice, opaJUMP! instructors check in with clients to identify any health or fitness issues related to the class and how to best meet their goals. It was after a recent class that an opaJUMP regular, Lynn, stunned the instructors with the news that she has been battling a particularly difficult thyroid condition for years. Excited, she elaborated that while she had done everything prescribed for her symptoms, it was only after she started taking opaJUMP classes on the rebounder, that she became more energetic and, best of all, her thyroid levels had become stabilized.
It is estimated that 20 million Americans have some form of thyroid disease and that women are five to eight times more likely than men to have a thyroid problem. Furthermore, according to the American Thyroid Association (ATA), one in eight women will develop a thyroid disorder during her lifetime.
For Lynn, the symptoms began about 4 ½ years ago, despite not having any family history of an autoimmune disease. She had begun to feel dehydrated, constantly fatigued and had gained approximately ten pounds in less than a month, despite the fact that she exercised regularly and maintained a healthy diet.
After a series of tests, it was discovered that her TSH (thyroid stimulating hormone) levels were high. Within three weeks, a specialist diagnosed Lynn with Hashimotos, in which the immune system attacks the thyroid. With Hashimoto's disease, the immune system makes antibodies that damage thyroid cells and interfere with their ability to make the thyroid hormone. Over time, thyroid damage can cause thyroid hormone levels to be too low. This is called an underactive thyroid or hypothyroidism. Lynn was told that she would be on medication for the rest of her life, which she wasn't too happy about; however, at that point, she was 25 pounds heavier and could barely lift her head in the morning.
Although the thyroid gland is small, it produces a hormone that influences every cell, tissue and organ in the body. Undiagnosed thyroid conditions can lead to serious health problems such as cardiovascular disease, osteoporosis and infertility. While most thyroid diseases are considered life-long conditions, the symptoms can be managed with medical attention.
In Lynn's case, it took several months to ensure her medications were working and 15 months of doctor visits before she was able to stabilize her thyroid levels, using various dosages of different drugs. "Then, 2 1/2 years after my initial diagnosis, the disease actually seemed to progress and became much more aggressive. Medications would work but only for short periods of time. It was like my body was rejecting the medication." Lynn persevered but she says, "My thyroid remained unstable and my medication needed to be adjusted several times."
Along with medication, Lynn followed advice that recommends regular exercise as an important part of an overall strategy to manage many hypothyroidism symptoms. "But to be honest, most days had been a struggle. I would have low energy, wake up tired and achy. When I would exercise, I would leave feeling completely drained."
In May, Lynn had a reoccurrence of symptoms and scheduled an appointment to see a new specialist for her Hashimoto's disease. Then she took her first opaJUMP! class and everything changed.
"Immediately after the first class, I noticed that I wasn't completely exhausted. My body didn't ache and I actually felt invigorated and light on my feet." She continues, "With an extra pep in my step, I figured I was just having a good day. Curious, I decided to try another class and, once again, had the same results."
Lynn started to do some research and discovered that rebounding is actually recommended for Hashimoto's patients. Numerous testimonials abound online, including this one from the Well Being Journal, "Rebounding For Detoxification And Immune System Benefits. The rebounding motion stimulates all internal organs, moves the cerebral-spinal fluid and the aqueous fluid within the eyes (many people claim improved eyesight), and does wonders for the intestines. Many immune cells such as T-lymphocytes and macrophages are self-propelled by amoebic action. These cells contain molecules identical to those in muscle tissue. All cells in the body become stronger in response to the increased G-force during rebounding, and this cellular exercise results in the self-propelled immune cells being up to five times more active. The job description of these cells includes eating viruses, bacteria and even cancer cells, so it is good that they be active. This exercise directly strengthens the immune system."
Since beginning opaJUMP! classes twice a week nearly 2 months ago, Lynn has been feeling great and recently revisited her doctor. After a year of being unstable, Lynn's TSH levels were again tested and are now back in the optimal zone. Based on her doctor's recommendation, Lynn will continue taking her medication, maintain a healthy diet and continue classes at opaJUMP!
Delighted, she says, "Rebounding is now my new drug." Frustrated with the lack of alternative resources provided to her she adds, "I find that doctors are quick to prescribe medication and do not offer alternative medications/treatments. If my endocrinologist would have suggested rebounding from the get-go, I suspect my thyroid levels would have stabilized earlier on in my diagnosis. Trust me...it's been a long 4 1/2 years."
Lynn concludes with this awesome endorsement, "opaJUMP! is a very warm, friendly and inviting environment. The classes provide a fun, innovative and challenging workout. The instructors are amazing (and inspirational)! I look forward to going to my classes each day."
Lynn's story is one of a struggle that, unfortunately, impacts far too much of the population. "We are deeply gratified to have made an impact on the lives of our clients," says opaJUMP! owner Olivia Banyon. "The focus is on giving everyone a great experience with results. We are committed to keeping our classes small and providing individualized attention. For both men and women, whatever their age or fitness level, we will cater the intensity to match their needs."
Studies show that NASA astronauts, who use trampoline exercises to counteract the effects of weightlessness, found the trampoline 68% more efficient than running or jogging. Furthermore, rebounding helped to rebuild the lost bone tissue of astronauts whose weightless state caused them to lose 15% of their bone mass, leading scientists to conclude that it can help to prevent osteoporosis and reverse damage.
"The natural benefits of jumping are so far reaching. Taking three opaJUMP! classes a week is more effective at transforming the body than running five days a week, and much easier on the body's joints, back, and knees," explains Banyon.
To learn more about conditions that affect the thyroid, from hypothyroid to hyperthyroid, and the benefits of rebounding, please click on the following resources:
http://www.thyroid.org
http://www.wellbeingjournal.com
http://www.bellicon-usa.com
There are no other rebound classes offered in the fitness market that match the experience at opaJUMP! opaJUMP! classes are not just about jumping high to a crazy techno dance routine. Many hours were spent by a team of health and fitness specialists and a former Radio City Rockette developing a detailed training curriculum for each class to ensure safety, effectiveness, challenge, and fun. All instructors go through a minimum of ten hours of intensive training. In each opaJUMP! class, participants will utilize all 638 muscles in the body and can burn up to 700 calories in one hour. Each class engages the core and firms the entire body with targeted exercises for the arms, legs, thighs and hips. Individual-trampoline exercises are considered to be one of the quickest, most joint-friendly ways to gain cardiovascular fitness, lose weight and create lean muscle. Classes are for men and women, ages 16 up with pre-registration starting today at http://www.opajump.com.
opaJUMP! is the first dedicated rebounding fitness studio in New Jersey. Housed in Bernardsville's historic Old Library with a spacious 2,700 square feet of space that is perfect for parties and special events. O-PA! offers free Wi-Fi throughout the building and features a Café with hot coffee daily, six flavors of frozen yogurt and non-dairy sorbet, and an assortment of healthy fruit, drinks and snacks.
opaJUMP! classes include JUMP!Start for beginners and weight loss, JUMP!BARRE-Barre Fusion! for sculpting lean muscle with the benefit of cardio and JUMP!HIIT for athletes and conditioned fitness enthusiasts who want to get to their next level of training, JUMP-a-LATES! that dives deep into the core stabilizing muscles and pilates powerhouse. opaJUMP! even has TEEN-JUMP!beats and KidJUMP!. New clients are welcome to take a free trial class. For more information or to register for a class, visit http://www.opajump.com, contact: opa(at)opaacademy(dot)com or call 844-672-7373 (OPA-PERF).
For information regarding licensing, training, and launching an opaJUMP! program/business in your studio or facility, please contact olivia(at)opaacademy(dot)com.
Photo credits: Maureen Stevens