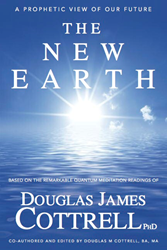 I am predicting a four degree change in ocean temperature
Toronto, Canada (PRWEB) July 29, 2015
Toronto native Douglas James Cottrell, Ph.D., has been described as a "forward thinker." Since the late 1970s, Dr. Cottrell has been making predictions about the economy, politics, social issues, as well as the environment. His new book, The New Earth, documents many of these prognostications. He warns that extreme weather conditions and increased earthquake / volcanic activity will increase beyond anyone's expectations.
In The New Earth, Dr. Cottrell observes that the oceans of the world are heating up. He says that expanding and rising sea levels are a contributing factor to widespread extreme weather conditions and flooding. A scientific report released last week by the National Oceanic and Atmospheric Administration and the American Meteorological Society supports Dr. Cottrell's claims. They say that surface temperatures of the world's oceans were "the warmest in 135 years of records" in 2014, with "record levels of heat down to 2,300 feet below the surface." A NOAA oceanographer is quoted as saying that "subtropical fish are now appearing as far north as Alaska" (Source: "Annual checkup of Earth's climate says we're in hotter water," July 17, 2015, by S. Borenstein, Associated Press http://abcnews.go.com/Technology/wireStory/annual-checkup-earths-climate-hotter-water-32491287).
Dr. Cottrell predicts this trend will continue over the next three to five years, causing greater flooding and extreme weather. "One degree is troublesome," he says. "Two degrees are frightening. Three degrees are disastrous. I am predicting a four degree change in ocean temperature."
Dr. Cottrell sees a link between increased ocean temperature and widespread increases in volcanic activity. He is urging the public to take action now, in particular those living in coastal regions. "There will be a risk of flooding as well as airborne volcanic ash," he says. "We need to prepare today."
The New Earth (ISBN 978-0991979578) is available on amazon.com and douglasjamescottrell.com and will be available in book stores soon.