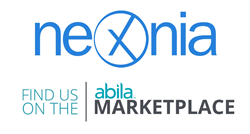 Many of our existing customers currently use our integrated solution with Abila, and we are proud to now be a part of the Abila Partner Marketplace.
Toronto, Ontario (PRWEB) July 29, 2015
Nexonia Inc., leading provider of web and mobile business financial management solutions, today announced the availability of its Nexonia Expenses web services interface integration with Abila MIP Advance™. Nexonia was among a select group of partners given access to the new REST API to develop a tighter integration into the MIP Fund Accounting family of products. The new Nexonia Expenses integration is designed to provide nonprofits and associations with quick and easy access to tools and services to enhance their existing Abila products. Currently, Nexonia supports a file-based integration with Abila's MIP Fund Accounting system. The new integration will allow users to manage their expense reporting process using Nexonia's user-friendly web interface and mobile applications for iOS, Android™, Windows Phone® and BlackBerry® 10.
"We're incredibly excited to be a spotlighted expense reporting solution on the Abila Marketplace," said Neil Wainwright, CEO of Nexonia Inc. "Many of our existing customers currently use our integrated solution with Abila, and we are proud to now be a part of the Abila Partner Marketplace."
Nexonia Expenses is available to customers on the Abila Marketplace.
The new partnership and integration is yet another way in which the company strives to provide its customers with a user-driven, easy-to-use platform for all of their the front-end ERP financial needs. Nexonia offers free personalized product demonstrations for all of their products.
Abila Marketplace
The Abila Marketplace is a rich, interactive, engaging platform that showcases add­ons, customizations, and services offered by Abila's Partner Ecosystem for its award­-winning products and solutions. Customers and prospective customers can quickly and easily navigate the site to find the information they need, including descriptions, demos, pricing, ratings/reviews, and contact information. The Abila Marketplace is a first­-of­-its­-kind designed specifically for nonprofits and associations.
About Abila
Abila is the leading provider of software and services to nonprofits, associations and governmental entities that help them improve decision making, execute with greater precision, increase engagement, and generate more revenue. With Abila solutions, association and nonprofit professionals can use data and personal insight to make better financial and strategic decisions, enhance member and donor engagement and value, operate more efficiently and effectively, and increase revenue to better activate their mission. Abila combines decades of industry insight with technology know-how to serve more than 8,000 customers across North America. For more information, please visit http://www.abila.com.
About Nexonia
Nexonia Inc. is a provider of leading web and mobile expense, time and other business financial management solutions, including: Nexonia Expenses, Nexonia Timesheets, Nexonia Time Off, Nexonia Time Allocation, Nexonia Purchase Orders and Nexonia Accounts Payable. Nexonia's simple-to-use and highly customizable applications are fully integrated with ERPs, credit cards and other systems supporting a variety of businesses. Nexonia solutions are designed to streamline the reporting and approval process, improve human resource management and enhance operational efficiency.
To receive more information, visit http://www.nexonia.com or call 800-291-4829.
###