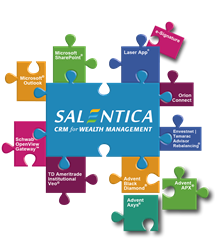 The ability to push data back and forth between our CRM and Advent Axys® is what sets Salentica apart from all the other firms.
New York, NY (PRWEB) July 29, 2015
Salentica, the leader in integrated CRM solutions for Wealth Managers, is pleased to announce the Salentica Data Broker, a data exchange middleware hub that leverages Microsoft® Azure to provide secure, real time data integration to leading custodian platforms including the Schwab OpenView Gateway™ as well as to other leading financial services platforms for Orion Advisor and Laser App. The Salentica Data Broker provides a secure data exchange platform for Advisors using Salentica CRM powered by Microsoft Dynamics CRM.
"Advisors need real time access to their custodian data as well as to be able to connect to the applications they use in the Cloud to be able to provide a high level of service to their clients. At the same time, data security is of paramount importance given the information being exchanged. The Salentica Data Broker provides a secure and trusted platform for the exchange of information between Salentica CRM and the applications and data sources, such as the Schwab OpenView Gateway, that advisors rely on to service their clients." Says Bill Rourke, President, Salentica.
Click here to watch a brief video of our integrated CRM for Wealth Managers.
About Salentica
Salentica is the leading provider of integrated CRM solutions for wealth managers, serving the needs of private wealth managers, RIA's, Family Offices, Trust Companies, Private Banks and Independent Broker Dealers for over 25 years. Salentica CRM is offered as both an On Premise and Cloud-based solution powered by the leading CRM solutions today including Microsoft Dynamics CRM and Salesforce CRM. Salentica CRM provides advisors with a complete view of the client through our pre-built integration solutions to industry leading providers including Schwab OpenView Gateway™, TD Ameritrade's Institutional Veo®, Orion Connect®, Envestnet Tamarac Advisor Rebalancing, Laser App®, and portfolio accounting solutions framework for Advent Black Diamond, Axys® and APX® and more. Salentica's integration solutions use Salentica's robust Data Broker technology ensuring the highest level of data security. Salentica is also a Gold Certified Microsoft Dynamics CRM partner.
About Microsoft Azure
Azure is Microsoft's cloud computing platform; a growing collection of integrated services—analytics, computing, database, mobile, networking, storage, and web—for moving faster, achieving more, and saving money.
Azure supports the broadest selection of operating systems, programming languages, frameworks, tools, databases and devices. Run Linux and Docker containers; build apps with
JavaScript, Python, .NET, PHP, Java, Node.js; build back-ends for iOS, Android, and Windows devices. Azure supports the same technologies millions of developers and IT professionals already rely on and trust.
Microsoft Azure is a class leading cloud platform that is independently verified to meet high security compliance standards. Microsoft Azure is compliant with a number of standards including SOC 1/SSAE 16/ISAE 3402 and SOC 2.
Salentica CRM is the property of Salentica Inc.
CONNECT WITH SALENTICA:
linkedin.com/company/salentica-corp
youtube.com/Salentica
twitter.com/Salentica
245 Park Avenue, 39th Floor
New York, New York, 10167-0002
Sales: (212) 672-1777 x300