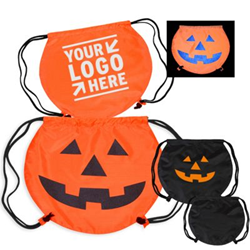 As the largest promotional product franchise that offers local, in-house promotional product customization, EmbroidMe is your one-stop-shop for creating fantastic Halloween giveaways
West Palm Beach, FL (PRWEB) July 31, 2015
Halloween evokes traditional images of children in costume going door to door in their neighborhoods collecting candy on October 31st. These days, however, Halloween has emerged as a community holiday, with schools, churches, nonprofits and businesses planning now to participate in Halloween-themed events throughout the month of October. Local organizations can organize or take part in such events at local malls, community centers, festivals, carnivals and pumpkin patches.
Safety First
Halloween now offers businesses, churches and other organizations the perfect opportunity to solidify their reputations as good community citizens. How? When businesses and other organizations participate in Halloween-themed events, they can come to these events armed with branded promotional items that help keep trick-or-treaters and their parents safe after dark.
Items such as brightly-colored trick-or-treat bags or totes, glow sticks, reflective zipper pulls, glow-in-the-dark wristbands, flashlights and reflective slap bracelets branded with an organization's logo will be sure to please parents concerned with keeping their children safe. Many of these safety-conscious items are reusable and will be useful for visibility after dark long after Halloween has come and gone. Each time a promotional item gets used, the company that distributed the item will be remembered.
Not Just Candy in Those Trick-or-Treat Bags
Businesses and other organizations participating in Halloween-themed events can also distribute promotional items to be handed out to trick-or-treaters in lieu of candy. Branded school supplies, such as pens and pencils, crayons, notepads and stickers with engaging pictures of ghosts, bats, pumpkins and witches, will delight both the kids who collect them and their parents who will be happy that some of their children's Halloween loot does not involve the potential for tooth decay.
Businesses interested in mounting a Halloween promotional marketing campaign must design and order their products now to be ready for October.
EmbroidMe offers a full range of promotional items that can be tailored to advertise a business while simultaneously commemorating Halloween, but companies need to be aware that many of them require lead time. Christine Marion, EmbroidMe's Director of Retail Operations, says: "EmbroidMe offers thousands of promotional products that can align a brand with events in the community such as Halloween. As the largest promotional product franchise that offers local, in-house promotional product customization, EmbroidMe is your one-stop-shop for creating fantastic Halloween giveaways."