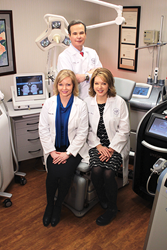 "You don't want to wait too long to get a suspicious mole or other marking on the skin checked out," said Dr. Karen Beasley
Baltimore, MD (PRWEB) July 29, 2015
A June 10, 2015 article from the News-Press, entitled "It's Never Too Early to Get Checked for Skin Cancer," discussed the importance of having regular skin cancer screenings from an early age. Skin cancer can strike at any age, especially if a person has excessive exposure to ultraviolet rays. When caught early, skin cancer is rarely fatal; however, if left alone for too long, the fatality rate goes up. Maryland Laser Skin and Vein's board-certified dermatologists are dedicated to providing skin cancer education as well as skin cancer screenings at their practice in Baltimore.
"Skin cancer is one of the easiest cancers to treat when caught early," explained Dr. Robert Weiss, director of Maryland Laser Skin and Vein. "When not caught and treated properly at an early stage, the cancer may metastasize and become much more difficult to treat."
Many people don't realize the importance of wearing sunscreen year-round, not just on trips to the beach or pool during the summer. UV rays are present in every season, even in overcast weather. The left side of the face tends to be affected by skin cancer more than the right, simply due to driving. Wearing sunscreen every day can help to prevent both sunburns and skin cancer.
"Sunscreen is more important than people tend to think," said Dr. Margaret Weiss of MDLSV. "The whole family should be wearing it no matter the season. Children should also be protected when playing outside, even in winter. The reflection of the sun on snow can be harmful, which is why skiers have a higher risk of skin cancer if they don't cover up."
Pre-cancerous lesions can be treated easily with a variety of treatments, ranging from cryosurgery (freezing) , lasers, and photodynamic therapy, or PDT, which is a non-surgical treatment requiring no anesthesia. Another reason to have regular skin cancer screenings is for the dermatologist to identify precancerous growths and prescribe non-invasive treatments or at-home prescriptions, which can usually stop a growth from becoming cancerous. Waiting until a lesion becomes cancerous will often mean surgery to remove it.
"We often recommend photodynamic therapy for pre-cancerous lesions because it is safe and effective," stated Dr. Karen Beasley of MDLSV. "You don't want to wait too long to get a suspicious mole or other marking on the skin checked out, because you never know what it may be. If it is a type of skin cancer, it is always best to get it treated as early as possible."
About MDLSV
Founded in 1984 by Drs. Robert and Margaret Weiss, Maryland Laser Skin and Vein Institute is the greater Baltimore/D.C. area's leading medical and aesthetic dermatology practice. In 2000, dermatologist Karen Beasley, MD joined the practice. With over 45 different types of laser and light-based therapies, as well as numerous injectable treatments, the board certified dermatologists at Maryland Laser Skin and Vein Institute are experts in treating a wide range of skin conditions, including acne, rosacea, aging skin and non-invasive fat removal.
For additional information about Maryland Laser Skin and Vein Institute, please visit mdlsv.com or call 410-666-3960.