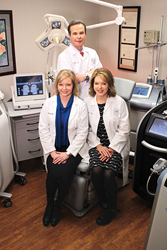 "You wouldn't go to your dentist with back problems, and the same principle applies with dermatology," said Dr. Karen Beasley
Baltimore, MD (PRWEB) July 31, 2015
An article entitled "Dentists Doing Dermatology? Cosmetics Lure Docs of All Types" from NBC talked about a woman's unfortunate experience having cosmetic skin procedures done by a family doctor not board-certified in dermatology. He performed sclerotherapy on her face, which resulted in blistering, swelling, bruising, and pain. This woman's experience is only one in a series of incidents resulting from a number of other types of doctors, such as dentists and family practitioners, deciding to offer cosmetic procedures that they are not fully qualified to perform. The board-certified dermatologists at Maryland Laser Skin and Vein Institute, a landmark practice in Baltimore, comment on this trend.
"There is a way of thinking that cosmetic procedures, such as Botox or laser resurfacing, do not require a lot of training to perform," said Dr. Robert Weiss, director of Maryland Laser Skin and Vein Institute. "However, this is simply not true. Board-certified cosmetic dermatologists undergo years of training and have the requisite experience to perform these procedures safely and effectively. If someone who just took a two-day class tries to inject Botox or perform a laser treatment, there is a good chance that the patient will end up with unfortunate and sometimes irreversible side-effects or skin damage."
Cosmetic dermatology is a steadily growing field, with many men and women wanting to turn back the clock on their faces and bodies to gain an advantage in today's youth-focused society. This also means, however, that many non-dermatologists are trying to get in on the action, often with disastrous consequences. A dentist may offer a dermal filler lip augmentation for a lower price than a certified cosmetic dermatologist, but the chances of leaving with duck lips is much higher, and the cost to fix a mistake can often be higher than the cost of having the procedure in the first place.
"Doing research and finding a qualified, experienced dermatologist is vital in ensuring that a patient will get the results that they want," explained Dr. Margaret Weiss. "Look at before and after pictures and check qualifications. Board certification should be from the American Board of Dermatology, and any other qualifications, such as membership in the American Academy of Dermatology or other distinguished dermatology societies, are a good sign as well. During a consultation, you and your dermatologist should be on the same page regarding goals and how to get there."
Having a cosmetic dermatology procedure done is not something that should be done on the spur of the moment because a person's dentist offers it during a checkup or a local med spa is having a special. These procedures require skill and care for optimal results and to avoid unwanted side effects. For example, a board-certified, experienced dermatologist would know to never perform sclerotherapy on the face, as the family practitioner did to the woman spotlighted in the NBC article. Sclerotherapy is the gold standard for leg veins, but should never be used on the face.
"You wouldn't go to your dentist with back problems, and the same principle applies with dermatology," said Dr. Karen Beasley. "Dermatologists specialize in skin, and when a person has a skin problem, whether cosmetic or medical, a dermatologist is who they should see."
About MDLSV
Founded in 1984 by Drs. Robert and Margaret Weiss, Maryland Laser Skin and Vein Institute is the greater Baltimore/D.C. area's leading medical and aesthetic dermatology practice. In 2000, dermatologist Karen Beasley, MD joined the practice and Christian Halvorson, MD joined in 2014. With over 45 different types of laser and light-based therapies, as well as numerous injectable treatments, the board certified dermatologists at Maryland Laser Skin and Vein Institute are experts in treating a wide range of skin conditions, including acne, rosacea, aging skin and non-invasive fat removal.
For additional information about Maryland Laser Skin and Vein Institute, please visit mdlsv.com or call 410-666-3960.