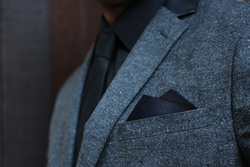 Vesper Wallet redefine the way you perceive and carry your wallet.
Las Vegas, NV (PRWEB) July 29, 2015
The first wallets were innovated shortly after the creation of paper currency in the 1600s. Since then, man has been slipping wallets into their pockets. For men who want to strike up a conversation with a brand-new style of wallet and carry their necessities in a new way, Vesper Wallet has been designed.
The fresh Vesper Wallet breathes new life into a design that has been outdated for years. Men have been spending money on wallets, only to put them into their back pocket.
With the Vesper Wallet, men can still carry their wallets in their back pockets if they choose, and if they want something a little different, the all-new Vesper Wallet offers an exciting option.
The Vesper Wallet is designed to fit into a suit chest pocket and gives the appearance of being a pocket square. To other people, the wallet looks like an accessory of the suit - only the person carrying the wallet knows the truth. The Vesper Wallet offers high quality craftsmanship, premium materials, and a sleek appearance. It also makes for an interesting conversation piece and fashion statement.
For those interested in the newly designed wallet, the Vesper Wallet is now available for pre-order starting today on INDIEGOGO.COM
Contact Vesper Wallet
http://www.vespervip.club
http://www.vesperwallet.com
contact(at)vespervip.club
###