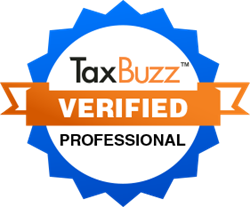 TaxBuzz Verified Professionals have passed a strenuous background check and receive an official badge to let visitors know who to trust.
Newport Beach, CA (PRWEB) August 03, 2015
TaxBuzz, a leading source for consumers and businesses to find tax accounting professionals, has released a new service to help its users verify their providers' identity and trustworthiness. "TaxBuzz Verified" will help protect the public from unscrupulous professionals with a system of background and license screenings.
TaxBuzz Verified comes in an age where reports of online identity theft and tax refund fraud are commonplace.
"Consumers and small business owners are spooked. Stories of tax refund fraud perpetrated by renegade tax professionals are making headlines nationwide," stated Lee Reams II, CEO of TaxBuzz.com. "Just recently, one preparer was sentenced to 18 months in federal prison and another accountant was arrested and accused of stealing $423,000 from a business. With our in-depth content, verified client reviews and now TaxBuzz Verified service, consumers can make better decisions when choosing their tax accountants."
Increasing the risk to consumers is that the IRS is under no obligation to refund the victims of tax preparation fraud, unlike the victims of identity theft. This makes consumers even more wary of trusting a stranger with their finances.
With TaxBuzz Verified, safeguards include screening national and country criminal records, the sex offender registry, terrorism watchlists, IRS PTIN verification, professional license verification, and a host of other databases.
Steven C. Leibold, EA added "people will know that I'm not one of the bad apples in the crowd." Mr. Leibold is among one of the early adopters of the service, now available to tax professionals as part of the nationwide roll-out.
"Between all of these various checks, we can be reasonably sure that the tax accounting professionals on TaxBuzz are who they say they are and have passed the Verified screening process," says Mr. Reams.
The TaxBuzz Verified badge also comes with a time stamp so that consumers may see how recently the professional was screened. "Even with some state accountancy boards doing background screenings, these are often one-time events and may not be done regularly," added Mr. Reams.
Tax professionals who are registered on TaxBuzz and confirmed through the program can display the TaxBuzz Verified badge on their profile, as well as their own website and marketing materials.
Learn more about TaxBuzz Verified on their website at http://www.TaxBuzz.com/.