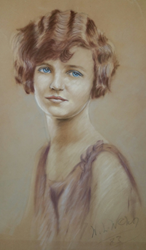 The artwork being on display impacts our residents because it empowers them to create. – Sally Rineker, Quality of Life Director, Signature HealthCARE of Sunrise Manor
(PRWEB) July 28, 2015
More than 650 pieces were submitted for this year's Reflect N Us Art Gallery, a multi-state art showcase and competition for nursing home residents.
This was the largest number of participants to date for the event, which was created and organized by Signature HealthCARE (SHC), a Louisville, Ky.-based long-term care, rehabilitation and health care company. Reflect N Us displays the resident artwork online, allowing visitors to the site to vote on their favorite pieces.
Artwork is categorized by medium and includes oil and water color paintings, charcoal, ink, chalk, pencil and clay. The gallery also features other creations by nursing home residents, such as quilts, jewelry and writings.
Since 2013, more than 1,500 pieces have been uploaded to the Reflect N Us site. A total of 662 pieces were submitted by nursing home residents in 10 states for this year's competition, with more than 4,400 votes tallied. Winners have their work put on display in the facilities and used on SHC promotional materials.
The event helped Nancy Clark, a 58-year-old resident at Signature HealthCARE of Chapel Hill, in Chapel Hill, N.C., uncover a hidden talent. Ms. Clark became a Signature resident two years ago and started painting only recently at the urging of facility Quality of Life Director Kathy Wright-Moore.
Clark was named a winner in this year's Reflect N Us competition.
"I'm grateful to those who voted for me," she said. "I am overwhelmed, overjoyed and touched beyond words."
Past winners include Lisa Shaheen, a resident at Signature HealthCARE of Sunrise Manor, in Hodgenville, Ky., who learned to paint using her mouth. Shaheen suffers from progressive multiple sclerosis.
Staff members at Signature facilities who work directly with the residents to help foster their creative abilities say the Reflect N Us showcase grants a renewed sense of self-confidence for those suffering from sometimes-debilitating illnesses.
"The artwork being on display impacts our residents because it empowers them to create," said SHC of Sunrise Manor Quality of Life Director Sally Rineker. "Art fits into the Quality of Life program because no matter the resident's level, there are all kinds of art for everyone."
For more information about Signature HealthCARE, visit LTCRevolution.com. For more about the Reflect N Us program, visit ReflectNUs.com.