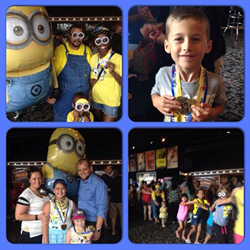 The race isn't about competition, it's about doing your best and having fun with it.
Chicago, IL (PRWEB) July 29, 2015
Variety the Children's Charity has announced a registration deadline extension of August 31st for its new signature fundraising campaign, the Minions Run virtual 5k. The special race gives anybody around the world, able-bodied or not, the opportunity to run at their own pace, on their own course – and help disabled and disadvantaged children while doing so. Named after and sponsored by the popular Minions movie in theaters now, every racer who crosses the finish line gets a special Minions-inspired medal! Since the Minions Run virtual 5k was announced in May, participants have registered from coast to coast throughout the U.S., as well as internationally in places like Canada, Barbados, United Kingdom and even Japan.
"We are excited to give more people the opportunity to participate in this groundbreaking virtual 5k," said Variety of Illinois executive director Angelique Barthel. "The race isn't about competition, it's about doing your best and having fun with it."
What is it?
A virtual run is a race that can be run at any location; runners have a flexible time frame in which to finish their race. The Minions Run is open to all ages through August 31, 2015. All proceeds benefit Variety the Children's Charity, which is comprised of 24 chapters throughout the country that empower local kids who are disabled and disadvantaged to live, laugh and learn. With the help of dedicated volunteers and generous individual and corporate supporters, Variety the Children's Charity is able to expand the horizons of deserving children. Minions Run participants can designate which Variety chapter around the U.S. they want their donation to directly benefit.
How does it work?
First participants are asked to register for the Minions Run virtual 5k. Online registration is open at http://www.minionsrun.com. Registration can be taken at any time, up until midnight on August 31, 2015. Each registration costs $25 and includes an electronic Minion Run race bib and the official Minion Run Medal. After registration, racers will receive a personalized Minions Run race bib via email. Race medals will be mailed 2-4 weeks after registration. Racers can run their 5k wherever they like (on their favorite running trail, around their neighborhood, in their gym, etc) any time before August 31, 2015. Once they have ran their race, racers are asked to share photos of the fun they had racing with family and friends!
What is the Medal?
The 2015 Minions Gold Heart Pin is the inspiration for the Minions Run finisher's medal. Measuring 3″ with an antiqued gold finish, this commemorative medal will stand out as the heart of any runner's collection. A special thanks to Universal Pictures and Illumination Entertainment for partnering with Variety the Children's Charity on the Minions Run.
For more information, email info(at)minionsrun(dot)com.
###
More about Variety:
Founded in 1928, the mission of Variety the Children's Charity is to improve the quality of life for children with disabilities by providing the equipment and experiences needed to reach their highest potential. Through a network of 43 chapters in 13 countries, Variety works to see a world where all children able to actively participate in their communities and experience all of the joys that come with being a kid. Join us!
Visit the Illinois chapter online at varietyofillinois.org, facebook.com/varietyofillinois or twitter.com/variety26.