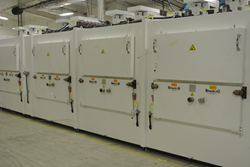 NEW COLUMBIA, Pa (PRWEB) August 11, 2015
TPS, a global manufacturer of thermal-processing equipment, has designed a new custom industrial oven in which the application cures a coating on glass vials that are used in the pharmaceutical industry. The four-module, 400 °C oven contains three heating chambers and another for cooling and processes vials as they advance in trays along a conveyor belt of more than 30 feet. The cooling zone allows the product to exit the oven at a temperature of 80 °C or less.
To ensure uniform heat distribution and optimize efficiency, a high-volume, HEPA-filtered, vertical-down, air-circulation system is utilized in each of the four chambers. Designed for a global innovator in materials science, this electrically heated Gruenberg NFPA 86 Class A Conveyor Oven is engineered for safe thermal processing where solvents or combustible materials are involved.
Thermal Product Solutions designs and manufactures industrial ovens, furnaces, and environmental temperature cycling and stability test chambers. Product brands include Blue M, Gruenberg, Lindberg/MPH, Tenney, and Wisconsin Oven. TPS is headquartered in New Columbia, Pennsylvania. Lindberg/MPH is located in Riverside, Michigan, and Wisconsin Oven is located in East Troy, Wisconsin. For more information, visit http://www.thermalproductsolutions.com.