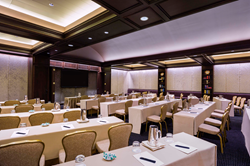 We're thrilled to offer a package that allows our guests to participate more in a healthy lifestyle.
Philadelphia, PA (PRWEB) July 28, 2015
The Rittenhouse is happy to offer wellness-focused meetings discounts this summer. Those planning meetings with 10-plus guest rooms on peak nights in Center City, Philadelphia, can enjoy a $50 spa credit for each overnight guest or a 5% discount on the group's guest room master account. The "Be Well to Meet Well" promotion runs through September 12, 2015.
The hotel's focus on wellness starts with the on-site treatments and services available at The Rittenhouse Spa & Club, including pedicures, anti-wrinkle treatments, and oxygenating body treatments. The Rittenhouse also offers business amenities, including complimentary Wi-Fi, use of The Rittenhouse Club, and premier Jaguar driver service for drop-off within a 20-block radius of the hotel. Prospective guests should inquire about adding a wellness break into their next meeting. Starting your morning with yoga in Rittenhouse Square or having a 15 minute stretch break in the afternoon restores everyone's focus, giving them ample energy for the rest of the day. The Rittenhouse prides itself on its rejuvenating spa and club, whose treatments invigorate every guest.
"The Rittenhouse has always been a major attraction for business travelers and meetings. We encourage all our guests to make healthy choices and to get engaged with wellness," said Reginald Archambault, General Manager. "We're thrilled to offer a package that allows our guests to participate more in a healthy lifestyle."
The package is subject to availability and restrictions may apply. Meetings must take place by September 12th, 2015. For more details and to book the package, please visit rittenhousehotel.com. Call (215)546-9000 or toll-free at (800)635-1042 for more information and to book this special offer. Meeting planners can also complete a Request for Proposal form to obtain more information about their specific meeting needs.
About The Rittenhouse
One of Philadelphia's most historic hotels, The Rittenhouse has had many incarnations. Beaux-Arts architect Paul Cret designed its modern layout in 1913. The Rittenhouse was originally home to A.J. and Lois Buchanan Cassatt. A.J. was president of the famous Pennsylvania Railroad and helped construct the original Penn Station. His sister Mary was a renowned painter, whose work appeared in the Paris Salon of 1868. Mary is now the namesake of The Rittenhouse's lounge, which serves renowned Afternoon Tea. Later, the Rittenhouse became the home of The Academy of Notre Dame, where members of the famous Barrymore acting dynasty studied as children. The Rittenhouse's current layout was designed in the late 1960s by Donald Reiff. This new design provides stunning views of Rittenhouse Square and Philadelphia, while still reflecting the history of the hotel's original design. With its wealth of history and commitment to superb service, The Rittenhouse is an exquisite hotel. Guests can reserve online or by calling (800) 635-1042.