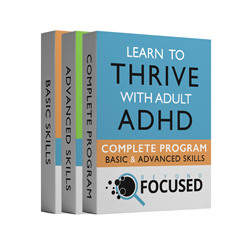 The antiquated approaches in the field are keeping people form thriving. It's time to change things.
San Francisco, CA (PRWEB) July 28, 2015
Phil Boissiere, a leading adult ADHD expert in the Silicon Valley is following in the footsteps of other industry leaders like Ned Hallowell, MD or Harvard University and Daniel Amen, MD of the Amen Clinics. His goal is to provide cutting edge tools and treatment for adults with ADHD. Rather than keep the most effective methods for managing adult ADHD hidden in the labyrinth of psychotherapy and psychiatry, he is making them available to everyone everywhere through his online video series.
"I'm tired of people with ADHD being made to feel like outcasts by the therapy world. People need help and few clinicians are trained, let alone believe ADHD is real." Boissiere goes on to say, "The reality is that adult ADHD is extremely prevalent. About 5% of adults have ADHD and are being told they are lazy or not trying in life. It's ridiculous. My videos are already helping people from tech industry leaders to stay at home parents. In fact, I'm even giving the series way for free through my Focus Within Reach program. Everyone should have a copy, whether they can afford it or not."
Phil Boissiere was born and raised in the Silicon Valley and has the same innovative spirit that has given many others the passion to succeed. "I want to see everyone be successful. Life has been good to me and I hope I can help others by brining innovation to my field. The antiquated approaches the field are keeping people form thriving. It's time to change things." Phil has now co-founded the successful Elite Focus Clinic in the San Francisco Bay Area and has released his internationally marketed video series.
The Learn to Thrive with Adult ADHD video series took Mr. Boissiere and his team hundreds of hours and over $30,000 to produce. Every effort was made to make it visually appealing, empowering, and rich with research based approaches for managing ADHD. "All of these factors are critical for holding the focus and attention of people in a media rich environment. The issue is compounded for people with ADHD." said Boissiere.
About Beyond Focused: Founded in 2014 by Silicon Valley Attention Deficit Hyperactivity Disorder and performance expert Phil Boissiere. His first offering the Learn to Thrive with Adult ADHD video series, will be followed up with comprehensive offerings for adults without ADHD including videos, dietary supplements, organizational tools, and audio books.