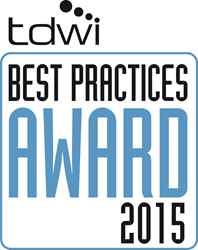 SquareTwo Financial is proud to be recognized for our state-of-the-art enterprise data warehouse, which aligns with our entire organization and provides direct value to our business. - Paul A. Larkins, president and CEO, SquareTwo Financial
Denver, CO. (PRWEB) July 28, 2015
TDWI, a source for in-depth education and research on all things data, has named SquareTwo Financial, a leader in the $100 billion asset recovery and management industry, a Best Practices Award winner for enterprise data warehousing. The TDWI Best Practices Awards identify and honor companies worldwide that demonstrate excellence and innovation in developing, deploying and maintaining business intelligence, data warehousing and related data management applications.
"TDWI is honored to present this year's awards to winners who exemplify visionary innovation, dedication, and commitment to excellence in their respective industries," said Steven Crofts, president of TDWI. "These awards showcase the depth and breadth of agile strategies, implementations, and technologies that both address old challenges and promote new solutions."
The nominated solutions were evaluated on business impact, maturity, innovation, and relevance. Winners were chosen by a panel of independent judges with expertise in business intelligence, data warehousing, and analytics.
"SquareTwo Financial is proud to be recognized for our state-of-the-art enterprise data warehouse, which aligns with our entire organization and provides direct value to our business," said Paul A. Larkins, president and CEO of SquareTwo Financial. "Our enterprise data warehouse architecture provides us with a single source of integrated, high quality, historical and current information so we can deliver our Fair Square Promise to treat our customers fairly and with respect."
The Best Practices Awards winners will be recognized Sept. 20-25 at the TDWI Conference in San Diego. Representatives from each company, along with their solution sponsors, if applicable, will receive awards during the ceremony.
"SquareTwo Financial's enterprise data warehouse enables us to rely on a single source of truth," said Nancy Couture, vice president of business intelligence at SquareTwo Financial. "With the implementation of this technology, we now have an increased level of data agility, with relevant information more accessible than ever."
The TDWI Best Practices Award is the fifth international award received by SquareTwo Financial's IT team over the last five years. The company's IT team has also won two national awards in that time period.
About SquareTwo Financial
SquareTwo Financial is a leader in the $100 billion asset recovery and management industry. Through its award-winning technology, industry-leading security and compliance practices, SquareTwo Financial creates a more effective way for companies and consumers to resolve their debt commitments. Lenders in the Fortune 1000 trust SquareTwo Financial to manage their debt portfolios. In all of its recovery efforts, SquareTwo Financial is committed to delivering the FAIR SQUARE PROMISE, the company's pledge to treat each Customer with fairness and respect. SquareTwo Financial is based in Denver, Colo. Visit http://www.squaretwofinancial.com for more information.
About TDWI
For 20 years, TDWI has provided individuals and teams with a comprehensive portfolio of business and technical education and research about all things data. The in-depth, best-practices-based knowledge TDWI offers can be quickly applied to develop world-class talent across your organization's business and IT functions to enhance analytical, data-driven decision making and performance. TDWI advances the art and science of realizing business value from data by providing an objective forum where industry experts, solution providers, and practitioners can explore and enhance data competencies, practices, and technologies. TDWI presents five major conferences as well as topical seminars, onsite education, membership, certification, live Webinars, resourceful publications, industry news, and in-depth research. See tdwi.org or follow us on Twitter @TDWI.
About 1105 Media
1105 Media, Inc., is a leading provider of integrated information and media in targeted business-to-business markets, including specialized sectors of the information technology community; industrial health, safety, and compliance; security; environmental protection; and home healthcare. 1105's offerings span print and online magazines, journals, and newsletters; seminars, conferences, and trade shows; training courseware; and Web-based services. 1105 Media is based in Chatsworth, CA, with offices throughout the United States.