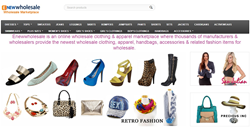 $5-$15
Los Angeles, CA (PRWEB) July 30, 2015
Enewwholesale.com is a new wholesaler of women's clothing, which specializes in providing an easy way to purchase wholesale clothes directly from the manufacturer. It does its business in the USA, and offers a place for all manufacturers of women's clothing a place to sell in bulk to other business. They offer an extremely large array of products, and are expanding their catalog daily. Some examples of the products already available for purchase in bulk are everyday clothing, beach wear, handbags, jewelry and accessories. If you can think of a product in the women's clothing sector, then chances are that Enewwholesale.com will have a large variety of that product in stock available to be ordered around the clock.
Today is a big day for Enewwholesale.com, as they expand their online catalog to include women's shoes. They offer these at wholesale, and offer many different types of shoes, such as high heels, boots, sandals, slippers and sneakers. They offer a very large variety, all of extremely high quality, and it is very easy to find the ideal pair of shoes to buy in bulk that fit your requirements. All of the shoes are sold in full packages, and are shipped to the shipping address very shortly after the order has been placed. The normal time for delivery is 1-5 working days which may vary subject to your specific location in the United States. The main mission of Enewwholesale is to offer customers looking for wholesale women's clothing a single website to satisfy all of their needs, and to provide them with all the products that they require for their online or retail store. All of the shoes sold in bulk are sent in boxes which tell you their exact size and color, so that it is easy to organize and store them.
The main defining factor of Enewwholesale is a lowest price guarantee on all of their products, which are shipped directly to the address given in less than a week. More than a thousand new products are uploaded to the site every single day by various different manufacturers and vendors, so there is no shortage of products to choose from. The main objective of Enewwholesale.com is to make to bulk buying process as simple and uncomplicated as possible, and to offer a fast and pleasant service to all of its customers and vendors, and to ensure that everyone leaves the site getting the best deal possible on their products, and to make sure that there is no need to go to another website to find a product, as it will already be available on Enewwholesale.com.
For Media related info, please contact:
Email: info(at)enewwholesale(dot)com
Tel: 888 926 2589