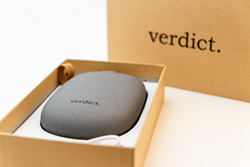 Dare to be you.
(PRWEB) July 29, 2015
Lifestyle brand verdict. has just announced the launch of their new product Juniper Power Bank. Within their brief lifespan so far, verdict. has built a reputation as a brand that helps people live life on their own terms instead of following someone else's idea.
The company's latest release bears a clear reflection of the company's psychology of being different and standing out from anything that is stereotyped.
External power banks have now become an important accessory for the modern day users of mobile devices. Needless to mention, there are a huge number of options for them on the ever expanding mobile accessory market. Juniper Power Bank was designed by verdict. with the sole intention of delivering a unique product that stands out from the rest.
Talking about the design of verdict. Juniper Power Bank, a senior spokesperson for the company said, "The Juniper Power Bank is designed to be unique. Our designers only had only one thing in mind when they worked on Juniper: to make it display extraordinary character. Take the verdict. Juniper Power Bank and wherever you go, you will stand out."
The product comes with two USB ports that can charge all types of electronic devices. Its powerful 10,000 mAh power source packs enough power for multiple days of charging for all Smartphones. The company claims that this product will be a great pick for people that have a busy lifestyle or go out frequently for adventure and road trips. The state-of- the-art design of the product is expected to be a hit amongst the users. The product's gray, textured finish and smooth oval design has been inspired by nature, and resembles a river stone or rock.
Check out verdict. on Facebook - https://www.facebook.com/pages/verdict/1610853392520081
A multinational, multi-cultural brand, verdict. is defined by the passion of its founders. The brand visualizes itself as a change maker promoting people's freedom of expression. The company's motto of standing out from others is seen even in the unusual way the name of the brand is written, with a lowercase 'v' and a dot at the end.
To find out more about Juniper Power Bank, please visit http://www.verdictlife.com/#!product-page/c14ci/1886a77d-8084-f4d1-50af-82fe5e04728e
About verdict.: verdict. is a multinational, multi-cultural brand defined by the passion of its founders. The company is dedicated to creating products that stand out from others. This highly talented team comprises of designers and creators that understand the need to be different.
Contact:
Website: http://www.verdictlife.com/
Email: support(at)verdictlife(dot)com