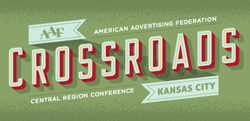 KANSAS CITY, Mo. (PRWEB) July 29, 2015
On Oct. 1-2, 2015, the American Advertising Federation of Kansas City will host 18 visiting states for the third annual AAF Central Region Conference. This conference at Union Station will bring together more than 250 professionals in the advertising community for 25 educational sessions, workshops and keynotes. This is Kansas City's first time hosting the conference.
The American Advertising Federation of Kansas City is uniquely situated to welcome the Central Region Conference because it is one of the nation's largest and oldest advertising club with more than 1,100 active members and a history dating back to its founding in 1902.
The conference will have two session tracks. One will be dedicated to changes in the advertising industry. The second track will focus exclusively on leadership and innovation for building local advertising clubs. Sessions in the second track will cover practical methods for member recruitment and retention and connecting with millennials.
"We have events throughout the year that address changes in advertising, but the Central Region Conference gives us an opportunity to focus on building strong local advertising clubs that are crucial to professional development and entrepreneurship," said Sarah Dyerson, executive director of the American Advertising Federation of Kansas City. "We're excited to put Kansas City's creative community in the spotlight and share our knowledge with visiting advertising clubs."
Registration is now open for the Central Region Conference. To learn more about the event, visit the Central Region Conference website.
About the American Advertising Federation of Kansas City
Known in abbreviated form as AAF-KC, the American Advertising Federation of Kansas City, is dedicated to furthering the advertising trade through educational opportunities, professional resources and special events.