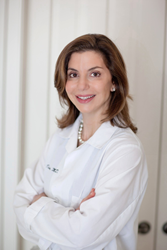 "Sufficient skin protection can go a long way towards preventing skin cancer," said Dr. Isaac
Washington, D.C. (PRWEB) July 29, 2015
July is National UV Awareness Month, and in honor of this month, Dr. Melda Isaac of MI-Skin Dermatology and Laser Center in Washington, DC shares tips on how to protect skin from the sun, as well as how to best treat existing sun damage. Sun damage can range from age spots to skin cancer, and is one of the most common skin conditions in America. Many people do not protect their skin sufficiently when going out in the sun, and pay the price later in life.
"Skin cancer is the most common form of cancer in America, but it is also the easiest to prevent," explained Dr. Isaac. "It is important for people to realize the importance of wearing sunscreen every day and taking precautions when outdoors such as seeking shade and wearing hats to protect the scalp and face. Sufficient skin protection can go a long way towards preventing skin cancer."
STAY SAFE BY UNDERSTANDING SKIN CANCER TYPES
There are three main types of skin cancer: basal cell carcinoma, squamous cell carcinoma, and malignant melanoma. Melanoma is the most severe type of skin cancer, as it has the potential to spread quickly throughout the body if not treated at an early stage. Regular skin cancer screenings can help to prevent cancer from reaching late stages, and a dermatologist should be consulted immediately if there are any abnormal changes to the skin, such as new moles or irregular dark spots.The best protection from skin cancer is regular check ups and the insight from a skilled medical professional.
"At my practice, we perform skin cancer screenings and use photodynamic therapy to treat precancerous lesions," said Dr. Isaac. "If a cancer is in a later stage, surgery may be needed to excise the damaged area and prevent it from spreading further in the body. We also treat cosmetic issues arising from too much exposure to the sun, such as sun spots and premature wrinkles."
HOW TO STOP SKIN CANCER BEFORE IT STOPS YOU
Aside from causing skin cancer, the sun can also damage the skin in other ways. Wrinkles, sun spots, and uneven skin tone and texture can all be traced to unprotected sun exposure. Dr. Isaac offers a variety of ways to treat these cosmetic issues, such as laser skin resurfacing, microneedling, and chemical peels. These treatments are highly effective, and Dr. Isaac will recommend a protective skin care regimen to follow in order to prevent sun damage from returning. However, the best treatment is preventing UV rays from affecting the skin in the first place. By staying out of the sun, finding shade when outdoors, using sunscreen above SPF 15, and wearing hats, you can have the best chance at stopping the effects of skin cancer-causing UV rays.
"Sun exposure is one of the main causes of premature aging," said Dr. Isaac. "UV rays can wreak havoc on the skin, from cosmetic issues to dangerous skin cancers. Wearing sunscreen is a good first step, but remember to reapply it throughout the day as necessary, especially if going in the water or sweating. I urge everyone to be careful in the sun."
Dr. Melda Isaac is a board-certified dermatologist located in Washington, DC. Her practice, MI-Skin Dermatology Center, is a comprehensive skin care practice which offers the latest and most advanced state-of-the-art technology to improve the skin's appearance. Dr. Isaac obtained her medical degree from Penn State University, and completed her dermatology residency at George Washington University. She is an active member of the American Academy of Dermatology, the American Society for Dermatologic Surgery, the Women's Dermatologic Society, the American Society for Laser Medicine and Surgery, and the Washington, DC Dermatologic Society.
You can find out more about Dr. Isaac and MI-Skin Dermatology Center at http://www.mi-skin.com.