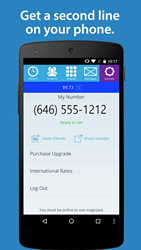 Today with the magicJack App for Android, consumers can now radically cut their cost for mobile phone and text service
West Palm Beach, FL (PRWEB) July 29, 2015
magicJack VocalTec Ltd. (Nasdaq:CALL), a leading VoIP cloud-based communications company, today unveiled the updated magicApp for Android that provides talk and text on any Android device without requiring expensive wireless contracts or costly pay as you go services.
The new Android App can turn any Android device into a mobile phone without requiring a carrier contract. Simply download the App, connect to any WiFi network and for $14.99 per year or $1.99 per month, get virtually unlimited talk and text service to any U.S. mobile or landline number and unlimited talk to any phone number in Canada, Puerto Rico and the U.S. Virgin Islands. Consumers who have an existing carrier contract can use the App to add a second number line to any Android phone for personal or business use.
''With the new magicApp for Android, virtually anyone in the world with an Android phone can now have a U.S. Phone number on their device, send and receive text messages to and from any US mobile operator such as AT&T, Verizon, Sprint, T-Mobile and many others,'' said Gerald Vento CEO of magicJack. "This means our App subscriber can call, send and receive texts to any mobile number in the U.S. without the need for the other party to have the same app. This is greater than just an app to app service and our market for this service is global."
With the growth of ubiquitous WiFi networks providing free or ultra-low cost access and the growing proliferation of Android devices worldwide, the magicApp for Android provides an opportunity for consumers to radically lower their cost for talk and text service.
''Bring your own WiFi, take any simple Android device, download and subscribe to our magicApp for $14.99 per year and you get a mobile number on your phone with talk and text service. It's that simple,'' said Gerald Vento. ''Since 2007, magicJack has provided low cost communications services to millions of subscribers who want to save money on their home phone service. Today with the magicJack App for Android, consumers can now radically cut their cost for mobile phone and text service.''
Further information and program details are available at http://www.magicjack.com.
About magicJack VocalTec Ltd.
magicJack VocalTec Ltd. (Nasdaq:CALL), the inventor of magicJack and a pioneer in Voice over IP (VoIP) technology and services, is a leading cloud communications company. With its easy-to-use, low cost solution for telecommunications, the Company has sold more than 10 million award-winning magicJack devices, now in its fourth generation, has millions of downloads of its free calling app, and holds more than 30 technology patents. magicJack is the largest-reaching CLEC (Competitive Local Exchange Carrier) in the United States in terms of area codes available and number of states in which it is certified.