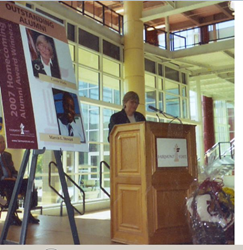 Volunteerism!
Newport Beach, California (PRWEB) July 29, 2015
Carole Wade is an authoress, charity volunteer, and political activist. Ms. Wade's first published book, "The Girl From Lamppost Springs," was accepted into the Library of Congress in 1997, which follows her life's journey from childhood to Century City, California, where her neighbor was the actress Lana Turner. Ms. Wade is married to Michael Robert Alexander ("Handleman" from his family's business: the Handleman Company) Wade.
As a long-time devoted volunteer for numerous charities, Ms. Wade is a past Trustee on the Board of Trustees, World Affairs Council of Orange County, and she is a Former Board Member, Board of Directors, Hubbard Street Dance Chicago. Ms. Wade pledges time to Fairmont State University, where she was honored as 2007 Outstanding Alumna of the Year. Ms. Wade had been the Vice President of Sigma Kappa Sorority at Fairmont State.
Ms. Wade's first position was in government service where she worked in public affairs within the Executive Office of the President, Washington, D.C. Then she went on to volunteering on the United Cerebral Palsy Telethon Committee WLS-ABC Chicago (whose celebrity member was Oprah Winfrey) and the Museum of Contemporary Art's Northside Affiliate Board of Directors.
Ms. Wade's maid of honor at her wedding in New York City was her husband's cousin: civil rights filmmaker Joan Handleman Sadoff. Ms. Sadoff encouraged Ms. Wade to become active at the Guggenheim Museum of Art as a member of its Junior Board of Governors. Later, the Orange County Business Journal recognized Ms. Wade as "Nominee" crediting her as a fourth generation farm girl raised in Fairmont where she began her volunteer career with 4-H. Her 4-H Club won the West Virginia Statewide 4-H Championship dancing contest.
Following in her late husband's uncle's footsteps, businessman and philanthropist Joseph Handleman, National President and Chairman of American Red Magen David for Israel, Ms. Wade and her husband are stewards of their commitment to the Legacy Society of Temple Bat Yahm in Newport Beach. In addition, Ms. Wade's other primary area patronage is overseeing her family scholarship at the University of Chicago Laboratory Schools.
The Times West Virginian interviewed Ms. Wade following her presentation to Prince Philip, Duke of Edinburgh (husband of Queen Elizabeth) in London. Ms. Wade arranged the most successful University of Chicago alumni gathering at the California Yacht Club in Marina del Rey featuring "top grad" actress Marilu Henner. Traveling to small villages in West Africa, Istanbul, Casablanca, Dubrovnik, Japan, China, Mongolia, New Zealand, Australia, exploring the Kwai River Bridge in Indonesia, Israel, and taking walks in uncountable European cities are a few of Ms. Wade's favorite activities. While she has a deep affection for travel, Ms. Wade loves coming home to Fairmont.
The Falcon Center will come alive on October 22nd opening its doors to the Sesquicentennial festivities. A parade through Fairmont will mark the beginning of the main event followed with an historical view of 150 years of the Fairmont State University campus at the West Virginia Folklife Center. Fairmont State University's 150th Celebration has created excitement and conversations among alumni and friends alike. It will be magnificent.
Ms. Wade's current volunteerism includes outreach to the local underserved communities in Southern California. She is also active with broader community issues concerning bicycle safety, environmental studies, and housing for women and children who live in poverty.
Website: http://www.carolewade.org/