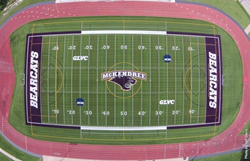 The folks at Shaw Sports Turf have produced a first-class product for our student-athletes to use and showcase their abilities.
Lebanon, Illinois (PRWEB) July 28, 2015
The installation of the Shaw Sports Turf field at McKendree University's Leemon Field is now complete.
McKendree University was Illinois' first institution of higher education, founded in 1828. The university has received extensive national recognition throughout the years such as, "College of Distinction" and "Best Colleges". The current average enrollment at McKendree is 3,100 students.
There are 23 intercollegiate sports teams that represent the Bearcats. Football, men and women's soccer, and women's lacrosse will be utilizing the new Shaw Sports Turf field.
The McKendree football team has won seven Mid-States Football Association-Midwest League championships since playing at Leemon Field in 1996. The Bearcats have a record of 59-16 at Leemon Field and have won over 78 %of their games at home.
The McKendree men's soccer team won three American Midwest Conference regular season championships since the program began playing at Leemon Field in 2005. The men's soccer team is 43-12-8 at Leemon Field for a win percentage of 74.6%on its home turf.
The McKendree women's soccer team won six of its 10 AMC regular season championships while playing at Leemon Field. Since 2005, the Bearcats have won over 86% of their home contests.
"We are extremely excited to see the results of this much-anticipated project," said Chuck Brueggemann, Director of Athletics at McKendree. "The folks at Shaw Sports Turf have produced a first-class product for our student-athletes to use and showcase their abilities. This addition also enhances our branding efforts with a crisp and modern look, while creating a top-level experience for our student-athletes and fans alike. We cannot wait until our teams can get out and use this new surface on a daily basis."
Byrne and Jones Construction of St. Louis handled the project on-site, which included the removal of the old turf playing surface, site preparation and installation of the new Shaw Sports Turf field
.
"It has been awesome working with McKendree University and Byrne and Jones Construction," said Shaw Sports Turf Territory Manager, Nathan Henderson. "I look forward to watching the Bearcats achieve more."
The Legion brand of Shaw Sports Turf that was installed at Leemon Field features a combination of high-performance monofilament fiber and a durable slit film fiber. Legion provides a soft and resilient playing surface with the performance and durability required for multi-use fields.
The McKendree football and soccer teams will be the first programs to utilize the new surface when preseason practices begin in mid-August.
ABOUT SHAW SPORTS TURF
A wholly-owned subsidiary of Berkshire Hathaway Inc., Shaw Industries is a full flooring provider to the residential and commercial markets. Shaw supplies carpet, hardwood, laminate, resilient, and tile/ stone flooring products, as well as synthetic turf. Shaw Sports Turf is one of the leading synthetic turf companies in North America and has represented quality and innovation for more than two decades with over 1,500 successful installations, including an impressive list of high-profile field installations. For more information please visit http://www.shawsportsturf.com, call 866-703-4004 or find us on Facebook.