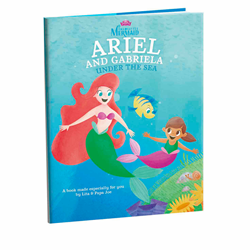 These personalized books are a one-of-a-kind way for kids to feel like a star," says Dawn McMorrow of Hallmark.
KANSAS CITY, Mo. (PRWEB) July 28, 2015
A child's dream of becoming a fireman, pirate, princess or superhero can now be brought to life with new Personalized Books from Hallmark. Kids' imaginations will run wild as they become a part of the story and live out fun adventures through the pages of these customizable books.
Hallmark Personalized Books allow the consumer to add a child's name as well as customize the appearance of the story's main character to resemble the child. Choose the gender, hairstyle and hair color, eye color and skin color, creating a custom character that appears on every page of the book, including the cover.
Book creators can add their names to the cover and a dedication page so the recipient will always have a record of who created this special gift that they will treasure for years to come.
"These personalized books are a one-of-a-kind way for kids to feel like a star, and they elevate story time to a whole new level," said Dawn McMorrow, Hallmark associate product manager. "They serve as a special keepsake and make great gifts for a birthday, special occasion, or any day in between."
Each of the 15 books offers an inspiring and entertaining tale of fun and adventure. Titles currently available include Super Hero, Princess, Dinosaur Adventure, Pirate, Tea Party, Ballerina Dreams, and Firefighter to the Rescue. A new title for encouraging kids – perfect for back-to-school time – is called The Amazing Adventures of (Child's name) the Great. Two books are also available in Spanish. New personalized books for Christmas and Hanukkah will debut later this year.
The newest title features Disney's The Little Mermaid and is called Ariel and (Child's name) Under the Sea. In this book, the child meets Princess Ariel and magically becomes a mermaid (or merman) for the day.
Personalized Books from Hallmark are priced from $39.95 to $44.95 and available in select Hallmark Gold Crown stores and online at Hallmark.com.
© Disney
About Hallmark Cards, Inc.
Hallmark makes the world a more caring place by helping people express what's in their hearts and connect in emotional ways with others. In the U.S., innovative Hallmark greeting cards and gifts are sold through the network of Hallmark Gold Crown® specialty stores, leading mass retailers and online. Worldwide, Hallmark offers products in more than 30 languages available in 100 countries. Millions of households enjoy family friendly television programming offered by cable's top-rated Hallmark Channel and fast-growing Hallmark Movies & Mysteries. Hallmark's Crayola subsidiary inspires artistic creativity in children through Crayola® crayons and markers as well as other innovative art tools, crafting activities and creative toys. Privately held Hallmark is based in Kansas City, Mo., and continues to be led by members of the founding Hall family. Visit http://corporate.hallmark.com for more details. Connect at Hallmark.com and on Facebook, Twitter, Instagram and Pinterest.