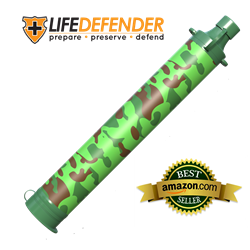 It allows the suction of about 50% more water and has a filter of 0.01 microns, which is half of the best selling filter
Fort Collins, CO (PRWEB) July 29, 2015
Life Defender, an American company developing camping and outdoor solutions, recently announced the launch of it's Personal Water Filter, a new point-of-use device designed to providers campers, hikers, and outdoor enthusiasts easy access to safe drinking water.
"I'm thrilled about the launch of our latest product, a breakthrough yet simple product that has the potential to save millions of lives. We set out to develop the world's lightest and most advanced water filtration device; based on initial sales we did just that," said one company spokesperson. "The need for this device can't be understated. 750 million people lack access to safe water. We designed this product to be light and compact enough for outdoor enthusiasts yet advanced enough for third world conditions."
LifeDefender's Personal Water Filter is a compact microbiological water purifier that can provide at least 26 liters of purified water an hour and more than 1,500 liters over the product's lifecycle-enough to provide a person with 1 years' worth of clean and safe water. The product has been extensively tested, complies with US EPA guidelines, and removes dirt from water, at least 99.9999% of bacteria, 99.99% of viruses, and 99.9% of parasites.
"LifeDefender's Water Filter will meet a critically important need in the hiking and camping community, where it's not uncommon to spend excessive time, money, and energy ensuring an adequate supply of clean water," said Matt Blake, company spokesperson. "The need for safe and clean water is especially acute during the summer months, where over 600 people die from exposure to excessive heat conditions. Thankfully, products like ours will make a huge difference."
The company has earned several early awards and accolades, including "Hot New Release" and "#1 Best Seller in Camping and Hiking Hydration" by Amazon.com. The company chose to leverage Amazon's platform due to it's customer-friendly interface, national fulfillment network, and global reach. One company executive shared: "we want to focus our energy on designing world-class products and delivering them through partnerships with leading retailers". The company has plans to partner with other retail giants like Sears, NewEgg, and Rakuten over the coming months with international expansion slated for Q4 2015.
Customers have taken notice and seem to be delighted by the new product. With a 5-star rating on Amazon, customers seem to be drawn to the flow rate, compact design, and longevity of the filter. One reviewer wrote: "Life Defender Personal Water Filter is a very useful tool to have in an emergency bag, in one's car and whenever spending any time camping, hiking or traveling…this device has improved on previous ones. It allows the suction of about 50% more water and has a filter of 0.01 microns, which is half of that of the best selling filter."
In spite of the awards and 5 star reviews on Amazon, the company is most proud of its reception from the outdoor community. Backpackers, campers, hunters and hikers have expressed their excitement over finding a lightweight device they can use to ensure they never have to worry about unsafe drinking water again. Life Defender's Pro Personal Water Filter is sold exclusively through Amazon and, like all Life Defender products, comes with a 5 year guarantee.