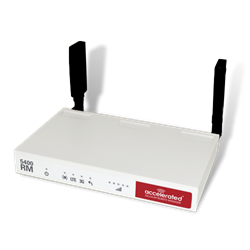 We are thrilled that through our partner network we now have over 100,000 devices being managed by our cloud management system
Tampa, Florida (PRWEB) July 30, 2015
Accelerated Concepts, Inc., the global leader in VPN and cellular hardware and management software, today announced it is on track for another year of record sales. Revenue in the first half of 2015 grew 26% compared to the same period last year. Helping drive this achievement was Accelerated's carrier OEM business, which is now profiling over 100,000 devices alone within its cloud management platform, Accelerated View. The end of the period was also bolstered by its recent release of its next generation 6300-CX Cellular extender appliance. The promising first half results underscore the value of Accelerated's comprehensive approach to cloud management, combined with on-premises network security and also cellular connectivity environments.
Accelerated is uniquely positioned to capitalize on the explosive demand for IoT and M2M. "Accelerated's continued strong performance can be attributed to our ability to adapt within the cellular environment with our mixture of cloud, cellular and on-premise solutions," said Tom Butts, CEO of Accelerated. "We are thrilled that through our partner network we now have over 100,000 devices being managed by our cloud management system. We are also excited to receive carrier certification from AT&T for our next generation 4G cellular router the 6300-CX. We expect the CX to be supported by all major carriers by the end of the third quarter".
By providing primary and failover WWAN connectivity to enterprise, Accelerated is helping organizations see greater productivity and sales while protecting compliance and reputation. Accelerated solutions allows organizations to improve IT efficiency, better address regulatory compliance, better secure their distributed environments and provide internet connectivity uptime for on-premises network equipment through cellular failover.
In addition to posting strong sales, Accelerated CFO Sid Overbey said the company is investing heavily in brand marketing to increase the visibility of Accelerated products.
Sid also highlighted a number of significant achievements so far this calendar year including:

Accelerated products now available in over 52 countries through multiple distributors
Launched a new channel partner program
Released its next generation 6300-CX cellular network extender 4G LTE WWAN router
Released a next generation out of band management appliance 5400-RM
Achieved carrier certification from AT&T and achieved PTCRB certification for both 5400-RM and 6300-CX
Strengthened our marketing and sales organization with hire of seasoned business development executive
Elevated the customer support organization to officer level to demonstrate our commitment to outstanding customer care
Completed a company rebranding and positioning
Accelerated is continuing to grow its customer install base and will be announcing an additional product at the IOT Evolution Conference and Expo in August.
About Accelerated™
Accelerated is an innovator in global 4G and LTE cellular, cloud and network communications, and offers industry-leading WWAN hardware and software solutions that expand primary and backup data connectivity and management capabilities. Since the creation of its flagship product NetBridge in 2006, Accelerated continues to innovate its line of cellular hardware, network management software and virtual private network (VPN) technology. Accelerated offers a range of Machine to Machine (M2M) and Internet of Things (IoT) communication technologies including its Dial-to-IP™ Converter and custom OEM solutions, in addition to its the LTE Cellular Extender Model 6300-CX, a compact, high-performance wireless router/modem and the 5400-RM Out of Band (OOB) Cellular Remote Manager. All Accelerated products can be centrally managed using Accelerated View™ cloud-based network management software. Accelerated Concepts, Inc. is headquartered in Tampa, Florida, with offices in Chicago, Illinois, and Brisbane, Australia. For more information, visit Accelerated.com.