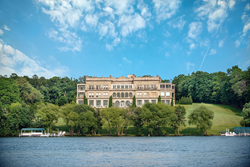 Unlike traditional listings where local traffic is the driving factor, live auctions attract a select pool of qualified and highly interested bidders nationwide and beyond. Interested buyers should come ready to bid on these two amazing Lake Geneva homes.
Lake Geneva, Wis. (PRWEB) July 28, 2015
Luxury real estate auction industry leader, Grand Estates Auction Company will be selling two distinct Lake Geneva waterfront homes at separate absolute auctions on Tuesday, August 18th. The first auction, at 11:30 a.m., will feature a stunning four-bedroom penthouse residence in The Stone Manor, perhaps the most famous Lake Geneva estate, with historic craftsmanship and details complimenting the panoramic lake views. The second auction, at 2:00 p.m., will feature a charming four-bedroom home with an elegant open floor plan and three levels of sweeping lakefront views. Each will be sold at a live absolute auction with no minimum bid and no reserve.
Nicknamed "The Newport of the West," prominent families including the Wrigleys, Kelloggs, and Schwinns have all called the glorious mansions and country clubs of Lake Geneva home for years. Both homes are a short walk from downtown Lake Geneva, and a short sail from the Geneva Yacht Club as well as Geneva National Resort and its renowned golf courses designed by Arnold Palmer, Gary Player, and Lee Trevino. The Lake Geneva area is filled with world-class golf resorts, spectacular spas, charming bed-and-breakfasts, boutique shopping, fine dining experiences, historical sites, and the famous 21-mile Shore Path surrounding the lake. Lake Geneva is also a 'winter wonderland" with two ski resorts nearby and the annual Lake Geneva Winterfest.
"Sellers of luxury properties in resort communities like Lake Geneva are increasingly turning to the auction process as they try to distinguish their property in the marketplace," stated Grand Estates Auction Company Director of Sales Development Stacy K. Reich. "Unlike traditional listings where local traffic is the driving factor, live auctions attract a select pool of qualified and highly interested bidders nationwide and beyond. Interested buyers should come ready to bid on these two amazing Lake Geneva homes."
The historic condo will be first to be auctioned. Situated on the topmost living level of a majestic estate, the elevator-accessible penthouse condo provides panoramic views of Lake Geneva from nearly every room. The spacious layout encompasses four bedrooms including two complete master suites; four full bathrooms; an open-floor-plan living room, dining room, and sunken wet bar; two gourmet kitchens; two laundry rooms; ample rooms for work, play, exercise, and media; four parking spots in the property's underground heated garage; and two covered boat slips on the property's 450 feet of Lake Geneva waterfront. Fine craftsmanship throughout the property is witnessed in the original, intricately carved, wood and plaster moldings; restored parquet and marble flooring; and four fireplaces. Resort amenities that are shared with four other owners include 24-hour concierge service; a 50-foot, heated rooftop swimming pool; and tennis/basketball courts on 10 acres of gated, fenced, and landscaped grounds.
The luxury family home will be the second auction and emanates understated elegance throughout. The open-floor-plan home features lake views from three levels of living space including four bedrooms; four bathrooms; living room; formal dining room; wet bar; gourmet kitchen with breakfast nook; family room or playroom with a kitchenette and walk-out access to the lake; wrap-around decks on all three levels; a heated four-car garage on two levels; and a private boat slip. Attention to detail can be seen in the soaring 10-foot ceilings, gas fireplace, custom cabinetry throughout, marble countertops, and limestone flooring. Situated on it's own 70-feet of private lakeshore, the home is screened from neighboring properties by dense stands of mature forest.
"My previous experience with Grand Estates Auction Company as a buyer was exceptional, from the materials I received on the property, the high level of service, and the auction experience itself," stated Thomas Santefort, the seller of the Lake Geneva home. "This Lake Geneva home has been great for both family getaways and entertaining, and I am confident that the impeccable service and world-class marketing of Grand Estates will result in a winning bid on auction day."
Grand Estates Auction Company has an unsurpassed closing rate in the luxury residential real estate auction industry and specializes in creating comprehensive global marketing campaigns for luxury properties. There are no contingencies, no lengthy negotiations, and timelines for closing are already established. To help buyers make an informed purchase, comprehensive due-diligence packets are available on each of the properties, and ample time is allotted for tours and inspections prior to the auctions. Similar to rare artwork that does not have comparable pieces to set the value, exceptional properties such as these are well suited for auction, where bidders set the market value.
The properties will be available for prospective bidders to preview beginning Friday, August 14th at 11:00 a.m., with daily preview times scheduled through the date of the auctions. Buyers may contact Grand Estates Auction Company's auction information office to schedule an appointment during one of the preview times at 800-552-8120. A $150,000.00 certified check or personal check along with a bank letter of guarantee will be required to register to bid. Registration fees from the morning auction can be transferred to the afternoon auction, providing the funds are not being used as a deposit on a purchase. Real estate agents and brokers are fully protected and encouraged to participate. Provisions for remote bidding can be arranged.
Grand Estates Auction Company is the leader in the niche market of auctioning luxury real estate, specializing in properties valued at $2 million and above throughout North America, the Caribbean, and select international destinations. Based in Charlotte, N.C., the company was established in 1999 and was the first of its kind. Recent auctions include the record-breaking sale of an $11 million home in Bay Harbor, Mich., and the sale of a $5.885 million home in Lake Geneva, Wis. For more information and auction details visit http://www.GrandEstatesAuction.com.