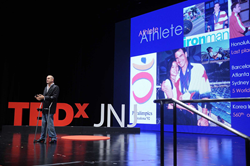 Singapore (PRWEB) August 04, 2015
Stamford American International School (Stamford American) hosted the largest global TEDx in history on its centrally located campus. The Johnson & Johnson TEDx event was designed to inspire change amongst the global organization, being streamed to over 6,000 like viewers in 30 countries.
TEDx is designed to help communities, organizations and individuals to spark conversation and connection through local TED experiences. Speakers at the Johnson & Johnson TEDx event, including entrepreneurs, innovators, leaders, and artists and Johnson and Johnson employees, took to the stage at Stamford American's state-of-the-art 500 seat Reagan Theatre.
Notable speakers included Gregory Burns, a world-class American athlete who swam to five world records over three Paralympics, discussed The Hero's Journey, a theme championed by world-renowned author and mythologist Joseph Campbell that galvanizes us into actualizing our human potential.
Stamford American students were also inspired by Thaddeus Lawrence, an educator, entrepreneur and extreme sports man, best known for successfully completing a total of 1,000 kilometers in footraces through the hot deserts of Sahara, Gobi, Atacama, and the polar desert of Antarctica. Thaddeus' speech, on How Second Can Be Best, was enjoyed by Stamford American students in one of the school's 4 interactive iLEarn facilities.
Johnson & Johnson TEDx attendees enjoyed catering under celebrity Chef Emmanuel Stroobant. Stamford American's partnership with Chef Stroobant delivers fresh, healthy and nutritious food to students and parents daily, with a standard of no fried food and no MSG.
The Johnson and Johnson event was led by Christopher Hall, under a theme called Get Moving, and moderated by changepreneur Grace Clapham with a surprise closing performance by Stamford American's cheerleaders. Christopher comments: "Stamford's wonderful theater offered the perfect learning environment for our 500-strong Johnson and Johnson audience, the LED screen brought the videos alive and the cheerleaders for the closing made this event indeed a unique experience. Everything from the food to the buses went off without a hitch".
-END-
About Stamford American International School
Stamford American is the first school in Singapore to offer students both the International Baccalaureate (IB) Diploma, Advanced Placement and the American High School Diploma–giving students an international experience with an American foundation. Stamford American's $300 million centrally located campus off Upper Serangoon Road is the most advanced learning environment ever built and is the largest investment in a Kindergarten to Grade 12 education facility anywhere in the region, providing a major economic injection into the Singapore economy. The campus features state-of-the-art technology and facilities including an Innovation Center, through a collaboration with Bloomberg – a first for any high school in Asia, establishing it as the benchmark for international schools around the world. It also house's the island-state's only EducationUSA Advising Centre partnering with the U.S. Embassy. Stamford's campus is designed to be the perfect environment for preparing children from aged 2 to High School for careers in the 21st century.
For more information on Stamford American International School, please visit:
http://www.sais.edu.sg or call +65 6602 7247