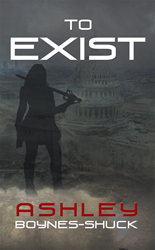 The hunt is on; Shelby is the prey.
(PRWEB) July 28, 2015
A massive storm and terrorist attack leaves America in utter ruins. Shelby Weiss finds refuge and safety in the company of two older men. Mourning from the loss of her family and friends and troubled by the uncertainty of her own life because of a life-threatening illness, she is also set to face another danger of being hunted down by male remnants who see her as the only hope left to repopulate and save their side of the world.
The unexpected arrival of Jared, the man Shelby loves, would have given her hope if not for the fact that he has amnesia and, like the other men, might have been seeing her as the "holy grail" of human race's survival. The hunt is on; Shelby is the prey. Caught in the midst of a great dilemma, Shelby is pressed to make an important decision: save herself or the potential future of a nation.
To Exist is the first published novel of Ashley Boynes-Shuck, who is also a health coach and multi awarded advocate. For more information about the author and her book, visit abshuck.com.
To Exist by Ashley Boynes -Shuck is published by Infinity Publishing is now available for purchase in both print and e-book versions.
About the author.
Ashley Boynes-Shuck is an award-winning writer, health coach, and social media consultant based in Pittsburgh, Pennsylvania. Since the age of eighteen, she has been a freelance writer for several magazines, newspapers, blogs, and websites. This University of Pittsburgh alumnus has also worked as an editor and coauthor of multiple books. She currently resides in a suburb of Pittsburgh with her husband, two dogs, and two cats. Follow her on Twitter @abshuck and visit abshuck.com for more information.
Title: To Exist
Author: Ashley Boynes -Shuck
Genre: Fiction/Science Fiction/Romance
ISBN: 978-1-4958-0461-8
eISBN: 978-1-4958-0479-3
Pages: 380
Price: $11.95
Publication Date: July 13, 2015
Publisher: Infinity Publishing