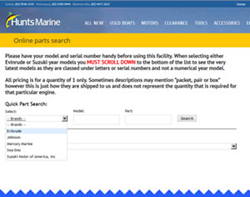 Australian Outboard Motor boat spare parts
Sydney, NSW (PRWEB) July 30, 2015
Hunts Marine has taken outboard motor spare parts service in Australia into the twenty first century online world with the launch of their online outboard motor spares ordering service.
This service is an Australian first. Boat owners can simply visit the site with the model and serial numbers of their motor and purchase any part for that motor.
"This is a unique service in Australia. Particularly when you consider that each engine has between 70,000 and 80,000 individual parts. It was no small task to create this user-friendly online purchasing capability and we are very proud of what we have achieved," said Hunts Marine Director Jon Hunt.
"The feedback, so far, from customers has been fantastic. They can order a part during the week and have it arrive in time for them to work on their engine over the weekend. As a result of this service boat owners, be they in Coolangatta, Oodnadatta or Parramatta, have an entire spare parts department located at their fingertips wherever they can connect to the internet," added Jon.
Spares are available for major outboard motor manufacturers, including Evinrude, Johnson, Suzuki, Yamaha, Mercury, Mariner and Mercruiser. Boat owners are able to purchase from the entire range of outboard motor spare parts from each of these manufacturers.
"Not only are all the parts available but there is also a full range of schematic drawings for each motor on the site enabling purchasers to be 100% sure that they are purchasing the right part," Jon said.
Asked what he thought the main benefits to boat owners would be Jon said "It is simple to use and comprehensive and it will save boat owners having to make the trip down to the dealership every time they need a part. This is of particular significance to boat owners who may live many kilometres from their nearest dealership."
"Anyone looking for, say, Evinrude outboard spares through to Mercruiser spare parts to Suzuki engine parts and indeed any boat spare parts will be delighted by what this online facility can do for them," Concluded Jon.
Hunts Marine is one of New South Wales oldest and most respected marine dealerships. The family business was established in 1946 and has traded continuously since that date. In addition to the original Blakehurst dealership Hunts Marine has dealerships in Wollongong and Batemans Bay.
For further details contact Jon Hunt on 02 9546 1324 or visit http://www.huntsmarine.com.au