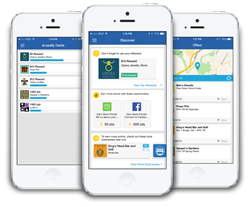 Buzz Points enables community banks and credit unions to compete with big banks and gives local businesses access to insights and marketing technology that would otherwise be out of reach to them.
Austin, Texas (PRWEB) July 29, 2015
Buzz Points, a leader in connecting community financial institutions with local businesses and engaged consumers through rewards, today announced that it has been selected to present its mobile application and merchant portal at FinovateFall 2015.
Taking place Sept. 16-17 at the New York Hilton Midtown in New York City, FinovateFall 2015 showcases the best and most innovative new financial and banking technologies to a global audience of senior financial and banking executives, venture capitalists, press, fintech analysts, bloggers, regulators, and entrepreneurs. The opportunity to present at Finovate is among the most coveted distinctions for innovative companies serving the financial services industry.
"As a premier event for the banking and financial services community, there is no better forum for us to demonstrate two key innovations from our unique 'Bank Local, Shop Local' platform, which empowers consumers with rewards for choosing local businesses over national chains," said Dwayne Spradlin, CEO of Buzz Points. "Our program enables community banks and credit unions to compete with big banks and gives local businesses access to insights and marketing technology that would otherwise be out of reach to them. Buzz Points' mobile app has made the process of discovering and buying local more accessible and intuitive than ever before for consumers – increasing loyalty for local banking institutions and driving dollars back to Main Street businesses. Our merchant portal empowers independent businesses with the tools to deliver offers directly to local customers through email, social media, the web and mobile and to evaluate the success of these campaigns."
Mike Hall, Buzz Points Director of Account Management, will be presenting a demo showcasing the following innovations:

Buzz Points' recently launched mobile app, which enables users to purchase, manage and redeem local points and offers from their mobile devices, and explore new local businesses close to home or across the country. Among its innovative features, the app utilizes geo-targeting to identify and recommend local businesses enrolled in the Buzz Points program, which permits users to earn and use points not only in their own local market, but also throughout the country as they travel. The Buzz Points mobile app is available to individuals nationwide who are enrolled in Buzz Points through their community financial institution.
The Buzz Points Merchant Portal provides local businesses with data insights, customer segmentation tools and other technologies—allowing them to compete with the non-stop advertising of national chains. This includes an innovative, analytics dashboard to gain a better understanding of their customers, advanced marketing interfaces to create multi-platform promotions, and tools to evaluate the success of these initiatives. The Buzz Points Merchant Portal is available to independent business owners who choose to participate as Preferred Local Businesses through community financial institutions that have partnered with Buzz Points.
"Selecting presenters for this year's FinovateFall conference in New York was not an easy task, since we received the most number of applications to demo we've ever seen," said Eric Mattson, the Finovate Group's CEO. "After a month-long screening process, we narrowed the pile to the newest and most innovative ideas in fintech, and we are excited to have Buzz Points on the agenda this year – showcasing their innovative mobile app and merchant portal that benefits local financial institutions and local businesses by creating a currency to incentivize account holders."
To date, Buzz Points is available in 32 markets and 21 states with a continually expanding network of thousands of local businesses.
About Buzz Points, Inc.
Buzz Points connects consumers, local businesses, and community financial institutions through an innovative rewards program that benefits all three parties. The Buzz Points Program enables credit unions and community banks to generate greater non-interest income, increase transactions, reduce account attrition, drive new loans and attract new customers, while gaining unique actionable data driven insights into consumer behaviors. The Buzz Points Merchant Program provides unique value to local business owners with opportunities to further invest in the program, attract new customers, increase loyalty, and to support the local community. Consumers benefit with rewards on every purchase, and 4X the points for purchases at local businesses.
About FinovateFall
FinovateFall is a demo-based conference for innovative startups and established companies in the fields of banking and financial technology. Held in New York City, the event offers an insight-packed glimpse of the future of finance via a fast-paced, intimate, and unique format. FinovateFall is organized by The Finovate Group. For more information on the event or to view videos of previous demos, please visit http://www.finovate.com."
Media Contact:
Susan Guerra
Thatcher+Co.
sguerra(at)thatcherandco(dot)com
973-650-6555