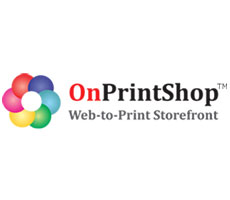 We have been working with OnPrintShop for almost 3 years, the changes & upgrades are valuable and appreciated by our online printing company. The amount of upgrades are very user friendly. It's a very affordable service with an intellectual support team.
Ahmedabad, India (PRWEB) July 30, 2015
OnPrintShop, a leading global web-to-print solution provider, announces fifth consecutive participation at upcoming Graph Expo 2015, September 13-16, 2015, booth #136, McCormick Place, Chicago, IL. Visitors can book an appointment to avail personalized consultation on the online print business challenges and a live demo of company's wide range of software for print service providers.
"We are very excited to launch major upgrade V5.0 with further simplified & configurable designer studio, mobile responsive admin panel (to manage a front store) and advanced tools (to increase online sales). We would like to sincerely thank our experienced & highly successful clients who shared their insights, which has helped us to add features to maximize growth. Before releasing upgraded OnPrintShop V5.0, we have done extensive homework and classified our clients according to their services, client type, size, business strategy, to understand what according to them will help them grow", commented Naresh Bordia, VP, OnPrintShop.
While sharing on collaboration with the company Mr. Gopan V., Payless PrintFast, North America said, "We have been with this company for almost 3 years, and they have slowly and steadily improved their support and services. The changes & upgrades are valuable and appreciated by our online printing company. From the time we have started with OnPrintShop till now, the upgrades are very user-friendly. It's a very affordable service with an intellectual support team for our online company."
The online print business has been evolving very fast, as more & more PSPs are having firsthand online experience. Now PSPs are looking for a trusted IT partner who can help in adapting changing needs & technology to stay ahead of competitors rather than a solution.
Throwing light on OnPrintShop's recent success, Naresh said, "As during 2014-15, almost 40% of our new clients who chose our solutions, were using another web-to-print solutions or generic e-commerce solutions. Few of our large clients completely closed their in-house development, as they found us as a one-stop solution provider for all IT needs."
"Major reasons for migration were 1. No flexibility to customize for meeting growing business needs or 2. Complicated solution to use, small changes require software programmers or 3. The Limitation to integrate third party tools/APIs or 4. Less/ No personalized support or upgrades or 5. Same solution for all needs. What our clients highly appreciated was our team's support, openness & expertise to understand their requirements and finding solutions to meet them. OnPrintShop also provides flexibility to choose between Multistore with Central Admin, Online Photobook, Trade Printer Solution to offer online reseller stores, print & fulfillment and Market Place Solutions", he further commented.
Major V5.0 highlights
Designer Studio: Now designer studio can be personalized as per product and client strategy to provide highly personalized, more crisp and clear interface and easy to use user experience.
Mobile Responsive Admin: Highly responsive admin panel with intuitive navigation improvement and attractive and user-friendly interface for better usability.
Retail store with sales team management – New functionalities to manage a sales team and commission.
Advanced B2B module – To manage multiple approval rules based on products, budget, departments and a lot more.
About OnPrintShop:
OnPrintShop is a flagship product of Radixweb, an ISO 9001:2008 certified IT services provider with 14+ years of experience in delivering enterprise-class solutions for diverse industry verticals. With over 8+ years' experience delivering SaaS to custom Web2Print Software from startups to large PSPs & Fortune 500 companies, OnPrintShop has been recognized as the most simple & easy to use Online Printing Software provider to automate print process from online order to delivery. Delivering personalized support 24/5 & work as a PSPs IT team. The range of solutions is powered by advanced technologies with flexible investment options-SaaS & highly customizable License Solutions. The Solutions - Platinum W2P, Online Photobook, Trade Printer, Multi-Store W2P Central Admin, Book Module, Custom-made Solutions.