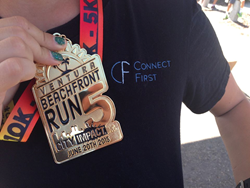 City Impact is an amazing foundation and I am so proud to work for a company that supports the charities that I think are important, letting me live out my passion of running while supporting my community
Ventura, Calif. (PRWEB) July 28, 2015
Connect First employees sweated it out for the kids at the 5th annual Ventura Beachfront Marathon in Ventura, Calif. The event was a ringing success, raising over $28,000 to support City Impact in providing services to children, youth and families throughout Ventura Country.
City Impact works with over 2,800 individuals per week through a myriad of viable services; from the street outreach, gang prevention and intervention programs, school leadership/support groups, to academic mentoring to students throughout Ventura County. They also support families and assist youth who have been released from the Juvenile Justice Facility to assimilate back into the community with support systems so they may succeed.
"The 2015 Beachfront Run in Ventura was a great success this year raising over $28K!" said Shelby Faris, Connect First Marketing Program Manager. "City Impact is an amazing foundation and I am so proud to work for a company that supports the charities that I think are important, letting me live out my passion of running while supporting my community."
To review the race results, please visit http://www.vendurance.com/race-results/11-city-impact-beachfront-half-marathon. Awards for 1st, 2nd & 3rd place were given out by gender in each 10-year age increments (11-19, 20-29, 30-39, etc.)
For more information on City Impact please visit their website here.
About Connect First: Connect First is an award-winning SaaS telecommunications and cloud contact center software provider that focuses on customer satisfaction and elegant hosted solutions. Connect First offers a robust platform, designed and supported by a team of highly experienced engineers, designers and business analysts, and backed with personalized in-house customer care. Solutions include Cloud Routing, Inbound ACD, Outbound Dialing, Call Tracking, Interactive Voice Response (IVR), Voice Broadcast, Disaster Recovery, Predictive Dialer, Real-Time Telemetry, CDR Reporting, Live Agent Chat and more. Through a consultative approach with each customer interaction, Connect First builds customized solutions to meet the needs of a discerning customer base. Visit http://www.connectfirst.com for more information or a free consultation with a contact center solutions expert.