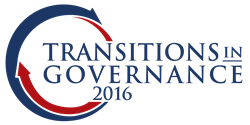 "The coalition's goal is to flag some of the biggest challenges a new Administration will face and offer thoughtful recommendations and reforms for consideration."
Washington, DC (PRWEB) July 28, 2015
Transitions in Governance 2016, a bipartisan coalition of 16 good government groups, has released the first in a series of possible reforms to help the next President improve the management of the federal government. The recommendations were devised during an expert panel held in Washington DC on May 6, 2015 featuring current and former Administration officials from both Democratic and Republican Administrations.
"Every new Administration comes into office promising to fix long-standing management problems in the federal bureaucracy, but they quickly learn that changing the way government does business is incredibly difficult," notes Carl DeMaio, a Senior Fellow at The Performance Institute who serves as the project's director. "The coalition's goal is to flag some of the biggest challenges a new Administration will face and offer thoughtful recommendations and reforms for consideration."
The first round of recommendations focus on Performance Management, specifically how the new Administration can set accountability goals for federal programs, measure and evaluate government performance, reduce duplication and overlap, and foster innovative approaches to solve problems.
Federal employees and the general public are now asked to vote on which reforms they support the most – and votes will be tallied and the best proposals emphasized by the coalition. Among the proposals now open for voting: creating a Performance Commission to evaluate program performance and consolidate programs, creating a venture-capital fund to improve government performance, expanding Pay for Success initiatives to encourage innovation, establishing a State and Local Government Performance Office within OMB, and creating a government-wide Chief Operating Officer to tackle major management challenges. Vote on the just-released proposed Performance Management reforms here.
Additional packages of reforms will be released on other key management challenges as the Transitions in Governance Initiative has scheduled a total of ten expert panels to devise ideas. Learn more about Transitions in Governance 2016 at http://www.transitions2016.org.