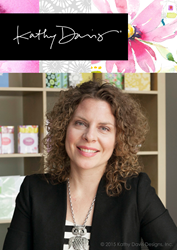 Since Sarah joined our company early last year, she has made great strides in helping to build momentum in a number of new and exciting directions
Horsham, PA (PRWEB) July 28, 2015
Sarah Van Aken was recently promoted to the position of President and Chief Operating Officer of Kathy Davis Studios. She will lead KDS in executing the growth and creative vision of the company's brands and running day-to-day business operations. Van Aken, who joined the company early in 2014 as Executive Director of Brand Development, was promoted to Vice President of Marketing in December of last year. Van Aken assumes the role previously held by Peter Walts, and more recently, by Kathy Davis. Walts' position has shifted to the role of Senior Advisor, where he will continue to help shape the business strategy for the future. Kathy Davis will continue in her role as CEO and Chief Visionary Officer.
"Since Sarah joined our company early last year, she has made great strides in helping to build momentum in a number of new and exciting directions," says Kathy Davis. "Sarah and I have worked closely together in this process, and she has shown great leadership and enthusiasm in working with our team and our clients. The Kathy Davis brands continue to expand into new product categories, and I have been very pleased with our progress to date.
"By promoting Sarah," Davis continues, "my hope is to redirect my efforts more purely into the areas I love. With my focus on art, writing and creative development, my intention is to continue to help fuel our brands well into the future."
"I am so thrilled for this opportunity," says Van Aken. "Having worked very closely with Kathy since I joined the company, I not only understand her vision to inspire people to Create a Life They Love, but I'm also totally immersed in it. I believe in it one hundred percent. I appreciate Kathy's confidence in my ability, and I am extremely optimistic about the future of our brand."
Sarah Van Aken's accomplished design ability and understanding of how to build a brand into a business have been key factors in her success. She spent her early career in apparel sourcing in New York City and abroad. She relocated to Philadelphia in 2001, and over time, she successfully launched three award-winning fashion brands. In doing so, Van Aken pioneered a vertical apparel business model that is now being emulated throughout the industry.
About Kathy Davis Studios:
Kathy Davis Studios (KDS), headquartered in Horsham, PA, is a leading design company that began over 25 years ago, serving the greeting card, stationery and gift industries. It has since expanded to become a lifestyle brand with key categories in home and fashion. Led by Kathy Davis, America's top social expression designer, KDS is known for expressive, hand-painted art and inspiring, hand-lettered messages. The firm designs meaningful products that sell worldwide, products that foster connection and inspire others to Create a Life They Love. Please visit us at http://www.Kathydavis.com