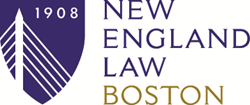 Few law schools place as much emphasis on hands-on clinical experience as New England Law.
Boston, MA (PRWEB) July 30, 2015
New England Law | Boston has long been distinguished by its wealth of experiential learning opportunities, which enable students to gain practical legal experience. Incoming students are now assured of these valuable options through a new policy that guarantees that they can earn credit for at least one clinic or externship while at New England Law. The curriculum change takes effect for interested students beginning with fall 2015 enrollment.
"Hands-on, practical experiences combined with rigorous coursework produces graduates who are ready, willing, and highly able to make their mark in the world of law," said Dean John F. O'Brien. "New England Law students gain confidence and credentials through time spent with real clients and their legal challenges, and student skills are polished through courtroom appearances, consultations, and the drafting of legal documents. We're proud to make this meaningful guarantee to our students and their future employers."
Few law schools place as much emphasis on hands-on clinical experience
New England Law students benefit from experiential opportunities throughout their law school years. Students can begin working on pro bono projects during their first year through the law school's three academic centers. After their first year, the innovative Summer Fellowship Program enables students to earn school-paid stipends working with a wide range of businesses, firms, government agencies and courts, and nonprofits, among other placements.
The law school clinics, which combine in-house settings and externships in a single program, allow students to put classroom learning into practice in a real-world setting as early as the first semester of their second year. Students undertake rigorous legal and factual analysis and gain exposure to issues of policy and ethics that seldom arise in the classroom.
Unlike at many other law schools, where clinics and externships occur in the final year, New England Law encourages students to participate in clinics as early and often as allowed and structures clinics so they are closely tied to the curriculum.
Few law schools place as much emphasis on hands-on clinical experience as New England Law. Nearly 70 percent of New England Law students participate in at least one clinic over the course of their education—and among day students, it's nearly 80 percent.
An exceptional learning environment
"Highlights of our clinical program include the way in which they're integrated with the curriculum and the fact that they represent real opportunities to acquire experience early," says Professor Russell Engler, program director. "Clinical experience is an exceptional learning environment for developing the skills of successful attorneys."
The school's judicial internships opportunities include the Honors Judicial Internship Program, featuring semester-long placements for academic credit, and funded internships through the Summer Internship Program. Both lead to placements with federal and state judges in several states.
Semester-long externships with the U.S. Department of State, the International Bar Association, and the International Criminal Court and the Special Tribunal for Lebanon (both located in The Hague, Netherlands) are offered through the Center for International Law and Policy. New England Law students can also choose from eight law study-abroad programs.
The Business Practice Credit (BPC), administered through the Center for Business Law, allows students to earn academic credit while gaining hands-on experience negotiating and drafting agreements, determining compliance, arbitrating disputes, and participating in litigation and other business activities.
Making students more "practice ready"
The faculty also approved two proposals furthering the law school's commitment to making students more "practice ready." The Practice Credit Program augments the BPC by reaching substantive areas outside the business context, and a new Advanced Clinic allows students who have successfully completed a clinical course to continue for another semester in the same or similar placement for clinic credit.
Students may obtain volunteer legal experience through the school's academic centers, and the school's Public Service Transcript Notation Program recognizes eligible volunteer legal work.
Students recognize the multiple benefits of New England Law's experiential opportunities, which include helping to make them practice-ready while opening doors and building résumés.