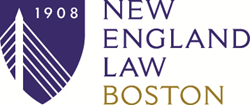 "Students gain invaluable, hands-on experience working on international legal issues."
Boston, MA (PRWEB) August 06, 2015
After studying and working in Latin America, Jordan Spiegel '16 enrolled at New England Law | Boston to make a more direct impact on international social justice issues. He anticipated a strong curriculum and has been impressed with the faculty's expertise, but he never expected to be working on a priority project directly under the new president of the International Criminal Court (ICC).
Spiegel's remarkable opportunity is unfolding over six months at the ICC's headquarters in The Hague, Netherlands, where he is joined by Katerina Hazimihalis '15. Joyell Johnson '15 recently completed an externship with the Special Tribunal for Lebanon (STL), also located in The Hague. Their positions have been made possible through the Center for International Law and Policy's (CILP) International Legal Externships.
"Our exclusive program offers a semester of academic credit for placement with these two tribunals, as well as with the International Bar Association and the U.S. State Department," said Professor Lisa Laplante, CILP director. "Students gain invaluable, hands-on experience working on international legal issues."
"This is an unprecedented opportunity"
The ICC is an independent, permanent court of last resort that tries persons accused of the gravest issues of international concern, including genocide, crimes against humanity, and war crimes. "I've been told that this is an unprecedented opportunity," said Spiegel, who started in June.
Spiegel is working for ICC President Judge Silvia Fernández de Gurmendi on a special project revising the court's filing rules. "This is a tremendous honor," noted Professor Dina Francesca Haynes, who worked with CILP to facilitate the highly demanding application process. "Very few Americans get to work at the ICC, and this clearly recognizes how well prepared our students are for these challenging and consequential positions."
Spiegel volunteered for New England Law's CORI Initiative, through which students gain experience helping eligible criminal offenders seal their records and escape potential discrimination. "The common thread in criminal law and international law is the pursuit of justice, and working at the ICC is an ideal experience for me because it combines the two fields that I am most passionate about," he said.
"A dream job"
Professor Haynes also recommended Hazimihalis, who is working for the ICC's Appeals Division. Hazimihalis chose New England Law because of CILP and the law school's variety of international law courses and externships. "The ICC position is a dream job," she said. "It'll be a solid foundation for me."
Hazimihalis took advantage of many New England Law opportunities, including earning the Immigration Law Concentration. She co-chaired the International Law Society's Human Trafficking Awareness Day and served on the Philip C. Jessup International Law Moot Court Competition team. As CILP's manager of student projects she guided student research projects and participated in a Massachusetts legislative initiative to assist victims of human rights violations. She also worked for an immigration law firm and in Greater Boston Legal Service's Immigration Clinic.
"I enjoyed studying international law and hope to use this externship experience to embark on a career in this field," she said.
"It was the perfect transition"
Joyell Johnson's externship was with the Special Tribunal for Lebanon (STL), which holds trials concerning the 2005 Beirut attack that killed 22, including the former prime minister. On several occasions Johnson was briefed by the head prosecutor and received additional trainings by other attorneys and legal advisers. She conducted legal research, worked with trial counsel to analyze evidence, drafted exhibit notes, reviewed and summarized witness statements, and evaluated press reviews, among other duties.
Johnson played an active role on campus, serving as a CILP program assistant, executive comment and note editor of the New England Journal on Criminal and Civil Confinement, and contributor to the CORI Initiative. She received the Charles Hamilton Houston Merit Scholarship and served in the Charles Hamilton Houston Enrichment Program Honors Society.
Johnson feels well positioned to enter the workforce full-time after the tribunal posting.
"It was the perfect transition from being a student to being a professional," she said. "I learned more about what I want to do as an attorney and where I want to do it. I was able to work closely with attorneys, get their opinions about how to strategize for trial, and how to anticipate what the other side will argue. This is a highlight of my law career so far!"