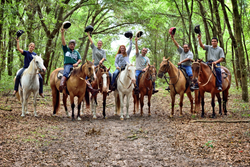 "We could not be more excited to make accessible one of the most beautiful places on the planet," said Genovese
Ocala, Florida (PRWEB) July 28, 2015
Year round equestrian trail riding on Ocala, Florida's spectacular Florida Greenway is now available through BG Trail Rides LLC as part of an agreement between BG Capital Group's Bobby Genovese and the Florida Horse Park.
BG Trail Rides is offering the turnkey service for novice and experienced riders ages six and older on the spectacular Marjorie Harris Carr Cross Florida Greenway's hundreds of miles of pristine oak-lined riding trails.
"We could not be more excited to make accessible one of the most beautiful places on the planet," said Genovese, who teamed up with BG Polo & Equestrian Resort and Equestrian Director Marcos Bignoli to create and operate the trail-riding program.
"The Greenway corridor is a world class greenway encompassing diverse natural habitats for observing Florida's native flora and fauna, sand dunes and the historic 49th Ave. Land Bridge," said Bignoli. "It's the perfect way to truly appreciate and experience the beauty of Ocala's natural resources."
Guided trail rides begin each day at 9am and conclude after the evening sunset ride. Cost is $50.00 for a one-hour guided tour and $100.00 for the one-hour guided tour with Argentine barbecue.
BG Trail Rides is located at 11008 S. Highway 475, Ocala, FL 34480. For information and reservations contact BG Trail Rides at 352-207-1882 or visit http://www.BGTrailRides.com; marcos(at)bgsignature(dot)com