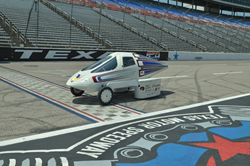 Overcoming extreme heat and a very competitive field of cars made this one of our most rewarding races.
Mendota Heights, Minn. (PRWEB) July 28, 2015
The Saint Thomas Academy Experimental Vehicle Team (EVT) took first place in the Electric-Solar Powered Division of the 2015 Solar Car Challenge, a national competition for high school teams held July 17-23 at Texas Motor Speedway. The EVT's "Urban Concept 3" car completed 287 laps total for 549 miles over four days of racing at the Texas Motor Speedway. The second place team in the division finished 12 miles behind the Cadets. In addition to winning its division, the team also received the Texas State Energy Conservation Office Awards for displaying the highest level of engineering excellence.
"We could not be more proud of our student engineers," said EVT Co-moderator Caroline Little. "Overcoming extreme heat and a very competitive field of cars made this one of our most rewarding races. The support of Power Systems Research allowed our team to really stretch ourselves this year as we took on this new and unique race division."
Applying their knowledge of engineering, electrical systems and composite technology, the 14 students on the team designed and built the two-person vehicle from September 2014 through July 2015. The vehicle features two gull-wing doors, four-wheel independent suspension, hydraulic disc brakes and a carbon-fiber body. The composite shell of the car was constructed from fiberglass molds the team made from a full-size model of the car. With its four batteries, the unoccupied vehicle weights 200 kg or 440 pounds. Team sponsors included: Power Systems Research, Firebase, Broadcast and Design Group, Valspar, Beau Ties Ltd. and Frank Schlick '85.
The Solar Car Challenge is a race of efficiency. The goal for each team is to complete as many laps as possible over four days using only the power of the sun to recharge its car. The Cadets raced in the new Solar-Electric Division, which simulates real-world electric cars using only a student-designed and -built solar charging station to recharge their batteries. The 1,300-watt photovoltaic array could completely recharge the vehicle in about 90 minutes.
Team members included:
Team Captain: Branick Weix '15 of Saint Paul (Mac-Groveland)
Colin Berg '15 of Stillwater
Tim D'Agostino '16 of Woodbury
William Dietz '16 of North Oaks
Sam Edgerton '17 of Saint Paul (Summit Hill)
Mitchell Gross '16 of Bloomington
John Ingebrigtsen '16 of West Saint Paul
Nicholas Michalik '15 of Saint Paul (Highland)
Matthew Michalski '15 of South Saint Paul
Brendan Quinlan '16 of Edina
Connor Shea '15 of Eagan
William Sullivan '16 of Eagan
Carter Swedal '15 of Rosemount
Samuel Westlake '18 of Lakeville
About the Solar Car Challenge
Created in 1993 as a single high school's extra-curricular program, the Solar Car Challenge continues to grow, attracting as many as 65 schools from 20 states. The competition motivates students in science, engineering and alternative energy while they learn how to design, engineer, build and race roadworthy solar cars. The end product of each education cycle is the Solar Car Challenge: a closed-track event at the Texas Motor Speedway, or a cross-country event. The competition alternates between the closed-track competition and the cross-country event every other year. For more information, visit: http://www.solarcarchallenge.org.
About the Experimental Vehicle Team
The Experimental Vehicle Team is a co-curricular program that teaches budding engineers real-life problem-solving skills. Past high school engineering projects completed by Experimental Vehicle Teams include a safer electric motorcycle for urban commuting, a one-person car that got more than 1,300 mpg and an electric car that traveled 50 miles on two car batteries. The team has now won nine national championships and set numerous national records in its history.
About Saint Thomas Academy
Founded in 1885, Saint Thomas Academy is an all-male, college preparatory, Catholic, military/leadership school committed to preparing young men to succeed in college and in life. The Academy challenges its students in grades 7-12 to excel academically, spiritually, morally and physically in and out of the classroom. It is fully accredited by the Independent Schools Association of the Central States (ISACS); a member of the National Association of Independent Schools (NAIS), the Minnesota Association of Independent Schools (MAIS), and the Association of Military Colleges and Schools of the United States (AMCSUS). For more information, please visit http://www.cadets.com.
/A gallery of images from the competition is available here./