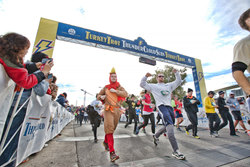 Our team was really impressed with the interface, social media and functionality of the software that Events.com offers," -Timothy Lioi, IT Manager of ThunderCloud Subs
San Diego, CA (PRWEB) July 29, 2015
Events.com, an event management platform that facilitates and enhances the experience of hosting and attending events, announced today that Cadence Sports, a full-service sports management company, together with ThunderCloud Subs, has selected Events.com to streamline race week packet pickup and race day check-in to provide an improved experience for participants of the 2015 ThunderCloud Subs Turkey Trot.
"Our team was really impressed with the interface, social media and functionality of the software that Events.com offers," Timothy Lioi, IT Manager of ThunderCloud Subs said. "With an event as large as ours, we need a platform that can keep up with our demand, provide a quick and easy way to register, and generate financial reports without any hassle. We are confident that this year's process will be the most efficient we've ever offered to our participants. We are looking forward to working with Events.com to make 2015 our biggest and best ThunderCloud Subs Turkey Trot yet."
"We are so pleased that the iconic ThunderCloud Subs Turkey Trot has chosen Events.com for its 25th anniversary year," Steve Mazza, Director of US Sales of Events.com said. "We are confident that our platform will streamline the process and reduce long lines and wait times for participants."
ThunderCloud Subs began this cherished holiday event in 1991 with a dedicated group of only 600 runners. In 2014, it had more than 20,000 participants from 49 states, making it the largest 5-mile run in Texas. ThunderCloud Subs donates one hundred percent of event proceeds to Caritas of Austin – a nonprofit organization that provides housing, employment, education, and food services to more than 20,000 homeless, working poor, and documented refugees in Travis County.
The ThunderCloud Subs Turkey Trot has raised nearly 2.5 million for Caritas of Austin since its start.
ABOUT CADENCE SPORTS, INC.
Cadence Sports, Inc. is a full-service sports management company based in Austin, Texas that specializes in the planning, promotion, and production of single and multi-day events. To learn more about Cadence Sports, visit http://www.cadencesports.com
ABOUT THUNDERCLOUD SUBS
ThunderCloud Subs, Austin's favorite neighborhood sub shop, has been a fresh, fast, and healthy part of Austin for 40 years with 30 locations in Central Texas. Being uniquely Austin, ThunderCloud is serious about giving back to the community. The ThunderCloud Subs Turkey Trot has since become a favorite Thanksgiving tradition for many Austin families and individuals who want to do something healthy and helpful before the big meal. To learn more about ThunderCloud Subs, visit http://www.thundercloud.com
ABOUT EVENTS.COM
Events.com is a leading online marketplace uniting event organizers and event participants in a single place. Its cloud-based application bridges the gap between event organizers and event goers, giving the event ecosystem an improved solution to planning and finding events. Events.com has over 75 employees with headquarters in San Diego and an office in Ottawa, Canada. To learn more about Events.com, please visit http://www.events.com.
Media Contact:
Sarah Pease or Lori Sussle Bonanni
Events.com
858.257.2300 x280
press(at)events(dot)com