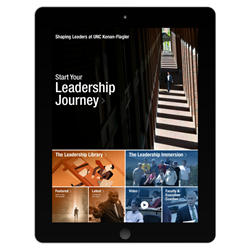 Chapel Hill, N.C. (PRWEB) July 30, 2015
The University of North Carolina Kenan-Flagler Business School has created a digital app for leadership development.
The Leadership App was announced by Michael Schinelli, chief marketing officer at UNC Kenan-Flagler, at the Adobe launch of its new Adobe Digital Publishing Solution (DPS), on July 29 in New York. The only education project featured at the event, the Leadership App was created with the new DPS and designed in partnership with Mirum, a digital global agency.
"Leadership development is a hallmark of a UNC Kenan-Flagler education," Schinelli said, "and digital marketing and the mobile web are critical to our strategy to attract the best and brightest to UNC Kenan-Flagler. The Leadership App captures our rich and comprehensive program to guide students through their leadership journey using the very latest interactive technology."
UNC Kenan-Flagler started its leadership initiative in 2005 to give students a competitive edge in the job market, said Mindy Storrie, director of leadership development at UNC Kenan-Flagler.
"Ten years later, we have customized the leadership content for all of our degree programs," Storrie said. "We offer our students a unique, comprehensive portfolio of leadership developing opportunities, unmatched by any business school in the world. The Leadership App captures our complete story for the first time – the full range of programs and opportunities – and makes it even easier for students to gain the highest return on their investment in their educations."
The Leadership App also will play a role in the delivery of the one-of-a-kind Leadership Immersion Capstone course.
"UNC Kenan-Flagler is the only business school to offer this type of course," Storrie said. "The Leadership Immersion is co-designed and taught by a team of faculty and executive coaches, an entire module – like a mini-semester – for students to focus solely on their leadership development, and to play a critical role in the development of their classmates. The program takes them entirely out of a classroom setting, literally, and the Leadership App will be their portal to the coursework and keep them connected with their classmates, faculty and coaches."
The Leadership App also includes a leadership library, featuring articles, blogs and other content produced by UNC Kenan-Flagler and curated from other sources.
The Leadership App is part of a broader strategy to develop a powerful mobile presence which engages different groups across the UNC Kenan-Flagler community. Initially launched on iPad, an iPhone version is planned.
The School's other apps include:

The MBA App, designed for prospective MBA students
UNC Business, the digital school and alumni magazine
R.O.I., the research magazine of UNC Kenan-Flagler
"We were thrilled that Michael Schinelli chose to introduce The Leadership App, their newest mobile app, at our Adobe Digital Publishing Solution launch in New York this week," said Nick Bogaty, senior director, head of digital publishing at Adobe.
Through the Luther H. Hodges Leadership Center, UNC Kenan-Flagler combines the best academic research with business practices to offer world-class leadership development for students. Students develop skills and competencies valued by employers and critical to career success.
The Leadership App can be downloaded from the Apple Store at https://itunes.apple.com/us/app/the-leadership-app/id1019836671?mt=8.
#
About the University of North Carolina Kenan-Flagler Business School
Consistently ranked one of the world's best business schools, UNC Kenan-Flagler is known for its collaborative culture that stems from its core values: excellence, leadership, integrity, community and teamwork. Professors excel at both teaching and research, and demonstrate unparalleled dedication to students. Graduates are effective, principled leaders who have the technical and managerial skills to deliver results in the global business environment. UNC Kenan-Flagler offers a rich portfolio of programs and extraordinary, real-life learning experiences: Undergraduate Business (BSBA), full-time MBA, Executive MBA Programs (Evening, Weekend and global OneMBA®), online MBA@UNC, UNC-Tsinghua Dual-Degree EMBA, Master of Accounting, PhD, Executive Development, and UNC Business Essentials programs. It is home to the Frank Hawkins Kenan Institute of Private Enterprise.