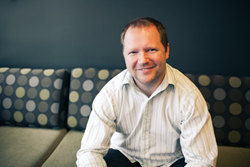 Independent operators are a challenging segment to reach due to market fragmentation, but one that can pay off in a huge way.
SPRINGFIELD, Mo (PRWEB) July 28, 2015
Chris Heil, account supervisor at deep, a foodservice marketing agency in Southwest Missouri, was selected to present at the International Foodservice Manufacturers Association (IFMA) Forum. The presentation, titled "Go-to-Market Resources and Tools: Independent Operators and Large Leverage Operators" will take place at 9:05 a.m. Wednesday, August 5, during the Marketing and Sales Leaders Forum in St. Louis.
With more than 13 years of experience in the foodservice advertising industry, Chris Heil has worked with national food manufacturers such as: Nestle Professional, Mission Foodservice, Borden Foodservice, Escalon and Lantmännen Unibake USA.
"This is a great opportunity for Chris to share his vast knowledge of the foodservice industry with fellow marketers looking to break into this key market," says Valeri Lea, partner at deep. "Independent operators are a challenging segment to reach due to market fragmentation, but one that can pay off in a huge way."
Heil's session will focus on reaching, supporting and influencing independent restaurant operators in the foodservice industry. Audience members will learn how to properly invest in the independent operator by making sure the distribution and communication mix are right on target.
The annual Marketing and Sales Leadership Forum will focus on insights and best practices that drive planning and execution in the foodservice landscape. Topics discussed will include: addressing the challenges of marketing and sales collaboration, how technology is changing our lives and the way we do business, and relevant insights on the consumer, operator and distributer.
To learn more about the upcoming conference, visit ifmaworld.com. Additionally, visit deepgroup.com to learn more about deep's work and variety of foodservice clients.
About deep
Founded in 2005, deep is a renowned food-branding agency that creates successful business-to-business and direct-to-consumer advertising campaigns across the United States and around the world. Deep is part of the Marlin Network, which represents over 70 food and beverage brands. The Network also consists of FoodIQ, STARAwards, The Alchemedia Project, Marlin and Marlin Network Consulting. Based out of Springfield, Missouri, Marlin Network is the number one purchaser of foodservice media and was listed in Inc. Magazine's list of America's Fastest Growing Companies in 2010, 2011, 2012, 2013 and 2014. To learn more about deep, visit deepgroup.com or follow the agency on Twitter, Facebook, Pinterest, Instagram and the b!eep blog.
About International Foodservice Manufacturers Association (IFMA)
IFMA is a leading trade association comprising more than 300 of the world's most prestigious food, equipment and supply manufacturers in the $600 billion foodservice industry, as well as related marketing service organizations, trade publications, distributors and brokers. IFMA's mission is to serve as a business partner to its members by bringing them relevant, actionable services that are fundamental to their business assessment, planning and execution.