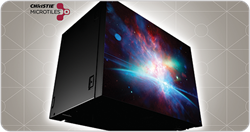 Once we saw the Christie LCD panels in action, and their brilliant, high definition images, they sold themselves
Cypress, California (PRWEB) July 29, 2015
Christie® and AVI Systems teamed up to create a movable 4-unit by 1-unit LCD interactive digital display wall at the University of Nebraska Omaha's Dr. C.C. & Mabel L. Criss Library. Built on casters for easy mobility, the multi-touch video wall gives students the opportunity to experiment, play and create what was previously unavailable to them and they are taking full advantage by designing gaming videos, working on school projects, and 'spray painting' the wall using Graffiti Wall software.
The Library is the school's primary source for academic information and Joyce Neujahr, Director of Patron Services, said she was searching for something "unique and different" that was not already on campus. Her interest was piqued when she read about the Christie installation at North Carolina State University and viewed the impressive Christie® MicroTiles® at Nebraska Omaha's Barbara Weitz Community Engagement Center.
"We looked at other brands, but the Christie LCD panels have no real competition. Once we saw the Christie LCD panels in action, and their brilliant, high definition images, they sold themselves," said Neujahr. "AVI Systems did a great job with the installation and are an excellent company to work with. They knew exactly what they were doing and kept us in the loop every step of the way."
Neujahr said the video wall's mobility was a big selling point for both the Dean and the Chancellor - who appreciate and love the wall and its technology, thinking it is money well spent. Using the new Christie wall, the library has "Throwback Thursdays" where archival photos are shown and Tuesdays include streaming videos, which are quite popular.
"One week we had eagles with their eggs hatching, and then the mother feeding them and another time we had newborn puppies - that sort of thing usually drives a lot of attention," Neujahr added. "We also had a feed from the Hubble Space Telescope circling the Earth with live streaming video. I think that's been a popular use of the wall - the live streaming event. The multi-touch screens are also frequently used and is a feature which influenced our purchase."
Christie's range of thin and elegant professional LCD flat panels enhances any environment with brilliant, high-definition visuals. Affordable and reliable, these display products provide the ideal platform to express messaging in corporate lobbies and meeting rooms, educational facilities and retail spaces.
About Christie
Christie Digital Systems USA, Inc. is a global visual and audio technologies company and is a wholly-owned subsidiary of Ushio, Inc., Japan. Consistently setting the standards by being the first to market some of the world's most advanced projectors and complete system displays, Christie is recognized as one of the most innovative visual technology companies in the world. From retail displays to Hollywood, mission critical command centers to classrooms and training simulators, Christie display solutions and projectors capture the attention of audiences around the world with dynamic and stunning images. http://www.christiedigital.com.
"Christie" is a trademark of Christie Digital Systems USA, Inc., registered in the United States of America and certain other countries.