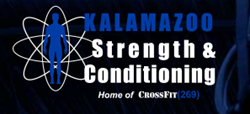 Kalamazoo, MI (PRWEB) July 29, 2015
CrossFit 269, offering a nationally franchised cross-training fitness program for Southwest Michigan, changed its name in July to Kalamazoo Strength & Conditioning.
The name change coincides with the release of its new website at http://www.kalamazoosc.com, and "reflects the evolution of our training center over the past three years," according to Jack Kelly, the center's owner and director of training. The new name and the website's banner, however, still incorporate the center's former identity with the tag line, "Home of CrossFit 269."
CrossFit is a branded fitness regimen based on broad, general and inclusive fitness, rather than a program that focuses on training for a certain type of activity or sport. Kelly had run a personal training business in Richland for two years before before opening CrossFit 269. During his time as a personal trainer, Kelly found that "all of my energy was pulling me towards CrossFit. When I decided to move from Richland to Kalamazoo and open an official CrossFit affiliate, I wanted to keep as many of my clients form the surrounding area as possible."
Kelly combined CrossFit with the region's area code to come up with the training center's initial name when he opened the center in Kalamazoo in 2012.
"When we opened, we only offered CrossFit classes. There were no opportunities for open gym time, and we didn't have enough space to train anyone who wasn't interested in coming to our group classes," Kelly said. "We've always been extremely passionate about not just training our clients, but educating them as well. We encourage them to ask us questions about their programs. Our rugged commitment to staying on the cutting edge of the science of human performance and nutrition, combined with our desire to work with highly motivated individuals led to us working with individuals with CrossFit and non-CrossFit specific goals alike."
The Fitness Center on Kilgore Road expanded from its original 3,000 square-foot, one man operation in 2012 to a 5,000 square foot operation by the following year. Eventually, Kelly expanded the center to 7,000 square feet with a full coaching and training staff.
"I've been very lucky to find a great team of coaches who are passionate about out our mission and core values. While we've always stayed true to our desire to train CrossFitters, both competitive and recreational, we've also had success training individuals with goals not specific to CrossFit. We've trained MMA fighters, college football players, college baseball players, college level equestrians, professional hockey players, marathoners, ultra endurance athletes, and youth athletes from just about every sport you can think of. We even train the drummer of a rock band who travels around the world playing music in stadiums and arenas."
The expansion into other areas of training led to the name change and creation of a new website. Designed by regional web developers Blue Fire Media of Portage serving southern Michigan and nearby states, the website maintains Kalamazoo Strength & Conditioning center's continued commitment to the CrossFit training regimen while encouraging customers who want to follow their own routine outside of CrossFit.
"We're very excited to offer open gym hours from 5 a.m. to 8 p.m. Monday through Friday, in addition to our full schedule of classes," Kelly said. "This gives our members an opportunity to come in whenever their schedule allows and work on weaknesses, and just hang around with other like-minded individuals."
Among Non-CrossFit activities, KS&C has expanded offerings in nutrition and yoga classes, and has started a Barbell Club for anyone interested in Olympic weightlifting.
"The biggest fear people have coming into CrossFit and our facility is that they are too out of shape to get started," Kelly said.
To ease that fear, and for the health and safety of a people who first come to KS&C, the staff starts everyone with an hour-long consultation, discussing goals, stress levels, training history and diet. The staff also conducts a full physical assessment of each newcomer, and makes recommendations on the most appropriate program for each individual.
"The entire introduction process is about building trust between our team and prospective clients, and generally we're able to find a program that's right for everyone."
Kalamazoo Strength & Conditioning is located at 1919 E. Kilgore Service Road, Suite B. More information is available at the website, http://www.kalamazoosc.com, or by calling (269) 359-7099.
Blue Fire Media designs and develops websites for commercial, industrial and non-profit clients, and specializes in responsive designs that automatically adjust to mobile devices, tablets and tables for easy viewing. More information is available at http://www.bluefiremediagroup.com.