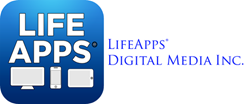 San Diego, CA (PRWEB) July 28, 2015
LifeApps Digital Media Inc. (OTC: LFAP) ("LifeApps"), an emerging growth company and designer of m-health, fitness and sports applications ("apps") and its e-Commerce business, Sports One Group, has signed a lease agreement for office space in Del Mar, California.
Effective August 1, 2015, LifeApps will move all operations to Polo Plaza, 3790 Via De La Valle #116, Del Mar, California 92014. The company is transitioning from its current Scripps Ranch location with completion of the move targeted for the first week of August.
The company is in the process of notifying its vendor partners and others of the move to the new location and will update suppliers and partners with any changes associated with the move.
LifeApps is taking this opportunity to review its operating cost associated with office space and its service plans for internet and phone services.
About LifeApps Digital Media Inc.
LifeApps is a digital media company focusing on health, fitness, sports publications, and next-generation social networks. The company is a leading, authorized developer, publisher and licensee for Apple iOS – iPhone, iPod Touch, and iPad – and Android tablets on Google Play and Kindle Fire and Androids via Amazon Mobile Marketplace. Health, fitness and sports enthusiasts can benefit from the expertise of top-tier sports physicians, performance fitness trainers and professional athletes through LifeApps multi-sport and fitness publications and mobile apps. These subject matter experts create the skills, drills and workouts that are featured in the family of LifeApps Digital Media products and publications.
For more information about LifeApps, please visit: http://www.lifeappsmedia.com
Forward-Looking Statements
This release contains "forward-looking statements" as that term is used under the federal securities laws. Such statements may be identified by the use of words such as "anticipate," "believe," "expect," "future," "may," "will," "would," "should," "plan," "projected," "intend," and similar expressions. These forward-looking statements are subject to various risks and uncertainties that could cause LifeApps' actual results to differ materially from those currently anticipated, including risks and uncertainties relating to the Company's business, product development, marketing and distribution plans and strategies. These and other factors are identified and described in more detail in the Company's filings with the Securities and Exchange Commission (the "SEC") including the Company's annual report on Form 10-K filed with the SEC on April 15, 2015. The Company does not undertake to update these forward-looking statements.